Situated in the heart of Europe, Hasselt University combines high academic standards, with high quality research, innovation, and entrepreneurship.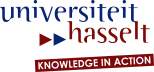 Hasselt (Belgium)
Martelarenlaan 42 3500 Hasselt
Tel. +32 11 26 81 11
Hasselt University is an innovative institution with pronounced international orientation. It is situated in the heart of Europe, within a stone's throw of cities such as Brussels, Aachen (Germany) and Maastricht (the Netherlands), whilst Paris and London are within a couple of hundred kilometres. Founded in 1971, it is the youngest university in Belgium. Hasselt University stands for excellence in education, top research in spearhead fields and active commitment to innovation and entrepreneurship. It has been included in U-Multirank 2015 and is ranked among the best 8% institutions worldwide. Hasselt University has 20 Masters programmes, of which 4 are English-taught. It consists of six faculties and one school and has 5,800 students, of which 12% are international students. The University also has 480 PhD students, of which 35% are international. It sustains contacts with more than 680 international partners for research and education.
The School of Transportation Sciences and the faculties of Sciences, Engineering Technology, Medicine and Life Sciences, Business Economics, Law, and Architecture and Arts offer attractive undergraduate, graduate and PhD programmes at a high academic level. Students can look for a room whilst still abroad at www.uhasselt.be/accommodation. If you prefer to look for a room once you are in Belgium, you can also choose to stay several days or more in the new Youth Hostel in Hasselt and look for the best place with your own eyes! The hostel is perfectly located, close to Hasselt railway station and at a walking distance of the centre of Hasselt. It is a brand new building with a young, modern look where you can spend a nice exploring time waiting for your sweet home. For more information you can contact the Hostel on this address: http://www.jeugdherbergen.be/en/youth-hostels/city-hostels/hasselt. If you are PRE-registered at Hasselt University (www.uhasselt.be/ApplicationForm) you can even stay there at the 'Members Rate'.