Specialising in Education and Technology, the Instituto de Estudos Superiores de Fafe combines high academic standards with low tuition fees and a strong international outlook.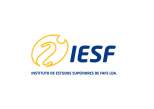 Fafe (Portugal)
Rua Universitária, Apartado 178, Medelo
Tel. 00351 253 509 000
The Instituto de Estudos Superiores de Fafe (Institute of Higher Studies of Fafe, IESF) is a private Institute in the North of Portugal, very close to Guimarães City (the 2012 European Capital of Culture) and to Braga City ( the 2012 European Capital of Youth). It was created in 1985 with the objective of establishing higher education in the municipality of Fafe with a strong influence in the nearby regions. The IESF is a Higher education project which specialises in Education and Technology. It's curriculum, which is accredited by Agency for Evaluation and Accreditation of Higher Education, is highly valued by the local community and employers. In 2009, the IESF was awarded the Erasmus University Charter (Extended under the Lifelong Learning Programme) which successfully continues under the new Erasmus+ Programme. Over the years we have built quality partnerships with European Institutions and over 185 mobility flows have been conducted taking into account the grant approved by the Erasmus+ National Agency. A key priority of IESF has been and continues to be the creation and development of strong partnerships with European higher education institutions, with a view to developing key areas for scientific and educational projects. A significant example of this is our Erasmus Intensive Programme (IP) - "Play, Toys and Culture" which was approved, funded and considered meritorious by the EACEA and National Agencies (03/08/2012). Similarly, another key international project, has been Action Erasmus Multilateral Projects: "Toys and Play in Children's Education". Whilst "Entrepreuneurship4Sport", a new Erasmus + Youth in Action Project has also been recently approved. It has been developed in consortium with two other institutions, one Portuguese and one Spanish Higher Education Institute, demonstrating our competence, credibility and reliability in projects creation and development.
The International Relations Department provides help in finding the private accommodation. The IESF doesn't have it is own residence hall however, it is being projected the creation of a hostel / residence hall for international and national students in 2016.