Study in LT is a non-commercial national information and support centre for students who wish to study in Lithuania.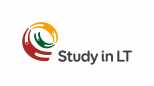 Vilnius (Lithuania)
Roziu al. 2
Tel. 52610592
Our aim is to inform the future foreign students, their parents and others about Lithuanian higher education system and nuances of living in Lithuania.
You wouldn't believe that Lithuania, a land of crumbling castles and enchanting forests, is also a great place to kickstart your professional career and make friends for a lifetime! This modern northern European country and a member of the European Union is famous and appreciated for its amazing nature, friendly atmosphere and exquisite education. Lithuanian higher education encompasses strong, hands-on training as well as great career opportunities – international students can choose from 500 BA and MA programmes and the diplomas are recognized everywhere in the European Union. Moreover, Lithuania offers an affordable living and great value for money as the same studies in other high ranked countries would cost around 4 times more and the cost of living here is one of the lowest in Europe. Interested? "Study in LT", the official non-profit Lithuanian higher education information and support center, helps ambitious people like yourself to explore educational opportunities in Lithuania.