The University of Tartu is a rapidly developing international research university, the centre of academic spirit in Estonia as a national university, and a leader in social development. UT belongs to the top 1.2% of the world's best universities.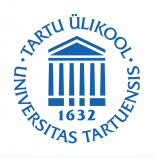 Tartu (Estonia)
50090, University of Tartu, Tartu, Estonia
Tel. +372 737 5100
The University of Tartu was founded in 1632 and therefore is the oldest institution of higher education in Estonia. UT includes four faculties: Arts and Humanities, Social Sciences, Medicine, and Science and Technology. The University of Tartu is the largest university in Estonia with 14 000 students. More than 1300 international students from around 100 countries study at UT every year and the university has over 100 buildings all across the country. University of Tartu is a member of several reputable international networks and alliances, such as the Coimbra Group, Utrecht Network and The Guild. Internationalisation is an important part of UT's strategic plan. UT has many partner universities all around the world and it cooperates with international companies (e.g. Mercedes-Benz, ImmonoQure) and participates in various student exchange networks (Erasmus+, ISEP, AEN). UT belongs to the top 1% of the world's most-cited universities and research institutions in the fields of Clinical Medicine, Chemistry, Environment & Ecology, Geosciences, Plant & Animal Science, Social Sciences, Molecular Biology & Genetics, Biology and Biochemistry, Neuroscience and Behavior, Psychiatry and Psychology (ESI Web of Science 2018). Researchers at UT have patented numerous inventions of practical application, including a glass of changing transparency, a linked manipulator operating as an actuator in artificial muscles, space cameras with extremely high image quality and a sensor which detects toxic gas. Satellite EstCube-1, developed by UT staff and students, made Estonia the 41st space nation in the world. Indian students who have been issued a residence permit for studies are allowed to work unlimited hours when it does not interfere with their studies. Once you have already progressed with your studies it will depend on your area of specialty and language skills whether it is possible to find a job in Estonia. For example, it is common for international students to work in the field of IT. However, most jobs require you to speak basic Estonian. The students have a possibility to learn Estonian at the university. Four centuries of student traditions and the city's young population are the main reasons why Tartu is considered to be the student capital of Estonia. It is easy for a student to "get lost" in a big city, but in a student city you can really feel that you are special. There are a lot of options for extracurricular activities, such as joining a sports team, our student choire, language cafes and many more exciting possibilities.