FROM THE EDITOR'S DESK
May 2023
Dear Friends
The past few months from January to March 2023 have been indeed rather busy and exciting for the EU-India relationship. In the backdrop of several high-level visits around the G20 including the visit of Vice President of the European Commission, Joseph Borrell, who was in India for the G-20 Foreign Ministers' Meeting in early March, we have continued to build new partnerships, engaged with a diverse cross-section of stakeholders and audiences during this period. This newsletter brings to you glimpses of some of that activity including views that senior EU representatives shared in the public sphere.
We started 2023 with a bang with two winners of the Special Mention of the European Union Prize for Literature Tadhg Mac Dhonnagáin from Ireland and Eugenia Kuznetsova from Ukraine participating in the Jaipur Literature Festival as did the Ambassador of the EU Delegation, H.E. Ugo Astuto. Tadhg Mac Dhonnagáin, who visited India for the first time accompanied by his son Tadhg Óg shares his first impression of India and its diverse literary culture here.
In February we curated an exhibition along-side the Youth Climate Conclave to present the winning photographs of the YCC Photography Competition. This was the first time that these photographs were shown in the public domain and two venues, since the inception of the competition. Check out the photo collage of this year's winners and brief report on the exhibitions. During this month we also announced the EU and Indian think tank consortiums, who were shortlisted for this year's Think Tank Twinning Initiative, we bring to you the list of the winners and more on what we have been doing in the think tank and policy outreach space.
March brought its own momentum, as we organised three EU Days, an exhibition at Museo Camera, two roundtables on Perspectives on EU-INDIA Cooperation in times of Great Power Competition and on Women in Diplomacy and rolled out a call for applications for young leader in the EU and India. A big shout out to our alumna Tejaswini Dhupad, an Erasmus Mundus 2021 scholar, who is currently pursuing her Masters in Big Data Management and Analytics and completing her specialisation year at TU/e, Netherlands for joining the EU Day in Mumbai and sharing her experience of studying and living in the EU.
This month, on 9 May we are celebrating Europe Day! This day holds a special significance for the EU as it celebrates peace and unity in Europe. It marks the anniversary of the historic 'Schuman Declaration', a speech by then Foreign Minister of France, Robert Schuman in which he set out his idea for a new form of political cooperation in Europe that would make war between Europe's nations unthinkable. Today this is considered as the first and very important step towards what we now call the European Union. For our readers in Europe, we do hope that you will find time to join the celebrations where ever you are. For details check out the link under Save the Date section.
The feedback and participation of our readers is of immense value to us. If you have any ideas on how we may collaborate with you, or are interested in any specific initiative do send us your thoughts on eupop@altairasesores.es. Through the summer months, we hope to explore new vistas and build on previous ones. So, watch this space for the next edition in early July!
Hema Singh Rance
Team Leader, European Union Policy and Outreach Initiative
---
VIEWS OF EU'S HIGH-LEVEL REPRESENTATIVES IN THE INDIAN PRESS

Vice President of the European Commission, Joseph Borrell was in India for the G-20 Foreign Ministers' Meeting, which is one of the most important gatherings of G20 Grouping in early March. During his visit in an exclusive interview Joseph Borrell spoke with Shubhajit Roy of the Indian Express.
Read More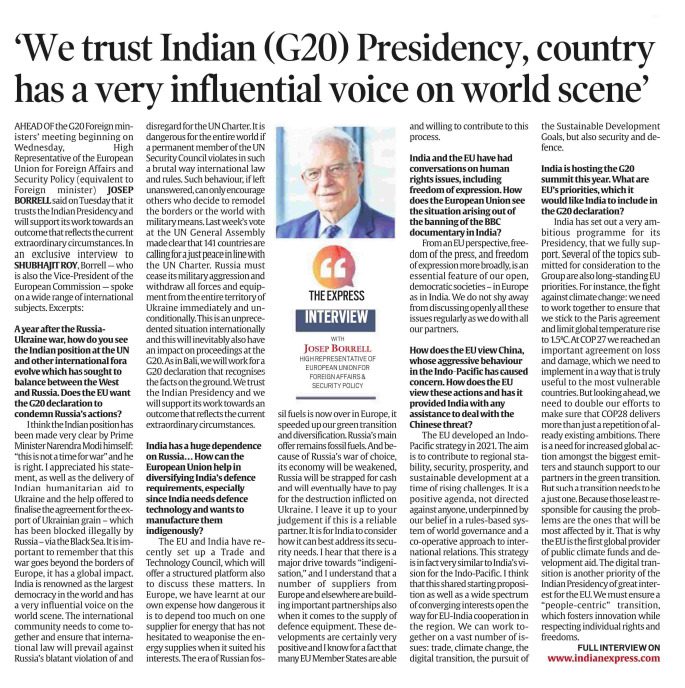 ---
HISTORY AND JUSTICE ARE ON THE SIDE OF UKRAINE. BUT TO ACCELERATE HISTORY AND ACHIEVE JUSTICE, WE NEED TO AMPLIFY OUR 'TRIPLE STRATEGY'. WE KNOW THIS IS A COLLECTIVE TASK says JOSEPH BORRELL
On the eve of the one-year anniversary of the Russia-Ukraine conflict, Joseph Borrell, High Representative of the European Union for Foreign Affairs and security Policy/Vice President of the European Commission, shared his thoughts Read More
---
H.E. Ugo Astuto, Ambassador of the European Union Delegation to India shed light on the EU's contribution to international relations and multilateral world order based on respect for rules and shared international principles. Read More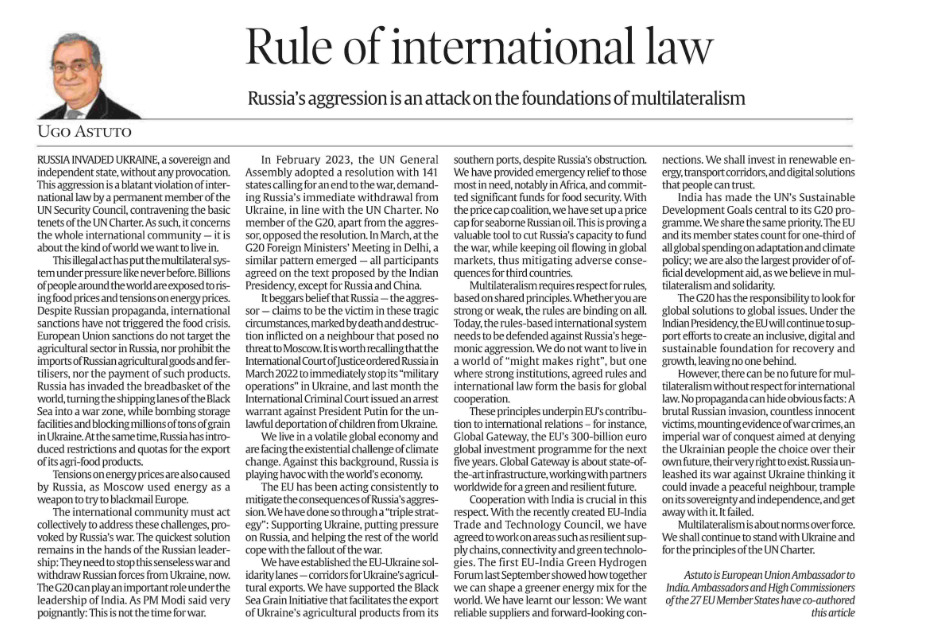 ---
HIGHLIGHTS THIS MAY!
EUROPE DAY CELEBRATIONS IN BRUSSELS AND ACROSS THE MEMBER STATES
5-9 May 2023

The foundations of the European Union as we know it today was set out 73 years ago, on 9 May 1950 in an extraordinary declaration based on two core principles of peace and solidarity called the Schuman Declaration.
If you are based in an EU Member State, you can join a multitude of activities that will be held across the continent in celebration of Europe Day. To learn more about Europe Day activities where you are CHECK OUT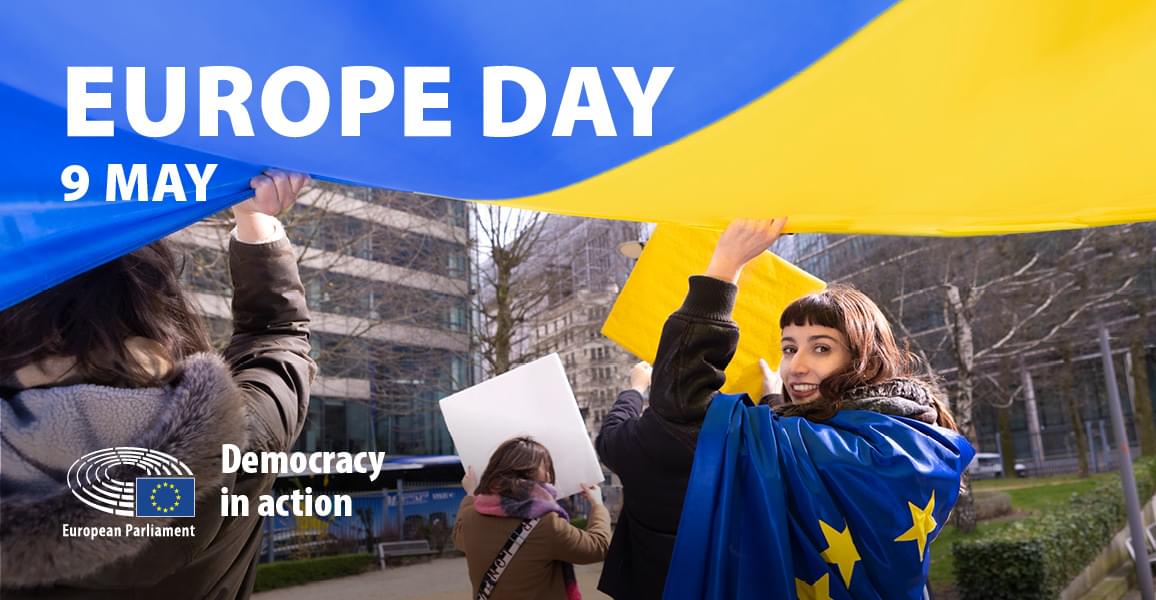 Making of the European Union and Europe Day
"World peace cannot be safeguarded without the making of creative efforts proportionate to the dangers which threaten it."
"Europe will not be made all at once, or according to a single plan. It will be built through concrete achievements which first create a de facto solidarity."
Robert Schuman, 9 May 1950


As Europe was trying to surface from the devastations caused by World War II and in the backdrop of tensions sparked by the new world order of the Cold War era, in 1950, a group of European politicians, many of whom had experienced the two world wars first hand came together to lay the foundations of a united Europe with a view to prevent future conflict between European countries.
The founding fathers of the European Union believed that if European countries would pool strategic resources together in order to make war between historic rivals, like France and Germany, "not merely unthinkable, but materially impossible." On 9 May 1950, in what became known as the Schuman Declaration, French Foreign Minister Robert Schuman announced the creation of a European Coal and Steel Community placed under the control of a common High Authority.
Following the Schuman Declaration, the Treaty establishing the European Coal and Steel Community was signed on 18 April 1951 in Paris by Belgium, the Federal Republic of Germany, France, Italy, Luxembourg and the Netherlands (the Inner Six). This Community brought coal and steel under the control of a common High Authority. The treaty entered into force on 23 July 1952.
While the immediate objective of this first treaty was to establish a common market for coal and steel, it also aimed to lay the foundations of an economic community that would gradually become a political union. The treaty established a High Authority, a Common Assembly, a Special Council of Ministers and a Court of Justice, which we today know as key institutions of the European Union: the Commission, the Parliament, the Council and the Court of Justice.
Later in June 1955, at a conference held in Messina (Italy), the concept of a European common market was first floated. Two years later this concept was embodied in the Treaties of Rome, which were named after the city in which the Inner Six signed the treaties on 25 March 1957. They entered into force on 1 January 1958.
For more on this historic day and Robert Schuman's speech CLICK HERE
---
ROUNDTABLE: ACCELERATING BUSINESS – CSO COLLABORATION ON SUSTAINABILITY AND SUSTAINABLE DEVELOPMENT GOALS
8 May 2023 – Kolkata I 30 May 2023 – Guwahati
In partnership with Centre for Responsible Business, the EU Delegation to India under its Global Gateway Strategy is kick-starting a series of multi-stakeholder dialogues to discuss how business and CSOs can collaborate to achieve Sustainability and SDGs and how governments can act as facilitators and enable these collaborations.
The first of these roundtables is scheduled on 8 May 2023 in Kolkata followed by the next one on 30 May in Guwahati. In case you are working in this space and would like to attend please email us on eupop@altairasesores.es.
To know more on these sessions and learn about the upcoming sessions follow the CRB website or watch this space.
Background
The Global Gateway stands for sustainable and trusted connections that work for people and the planet. It will help to tackle the most pressing global challenges, from fighting climate change, to improving health systems, and boosting competitiveness and security of global supply chains.
The European Commission and the EU High Representative have set out the Global Gateway, a new European strategy to boost smart, clean and secure links in digital, energy and transport sectors and to strengthen health, education and research systems across the world.
The EU is stepping up its offer to its partners with major investments in infrastructure development around the world. Between 2021 and 2027, Team Europe, meaning the EU institutions and EU Member States jointly, will mobilise up to EUR 300 billion of investments in:
digital
climate and energy
transport
health
education and research
The Global Gateway will deliver sustainable and high-quality projects, taking into account the needs of partner countries and ensuring lasting benefits for local communities. This will allow EU's partners to develop their societies and economies, but also create opportunities for the EU Member States' private sector to invest and remain competitive, whilst ensuring the highest environmental and labour standards, as well as sound financial management.
The Global Gateway is the EU's contribution to narrowing the global investment gap worldwide. It is in line with the commitment of the G7 leaders from June 2021 to launch a values-driven, high-standard and transparent infrastructure partnership to meet global infrastructure development needs. The Global Gateway is also fully aligned with the UN's Agenda 2030 and its Sustainable Development Goals, as well as the Paris Agreement.
---
FUTURE PERFECT
5-8 May 2023, New Delhi
Future Perfect refers to actions that will be completed now and at some point in the future and hopes to construct a different vision of the world. A world that finds inspiration from culture and cultural exchange.
The festival is an attempt to dedicate time and space to cultural expressions from Ukraine, the EU and India. It will showcase current creative voices in the field of music, literature, film, photography, and art. This festival is organised by EU National Institutes for Culture in collaboration with EU Member States and their cultural organisations.

For program details visit: Twitter | Facebook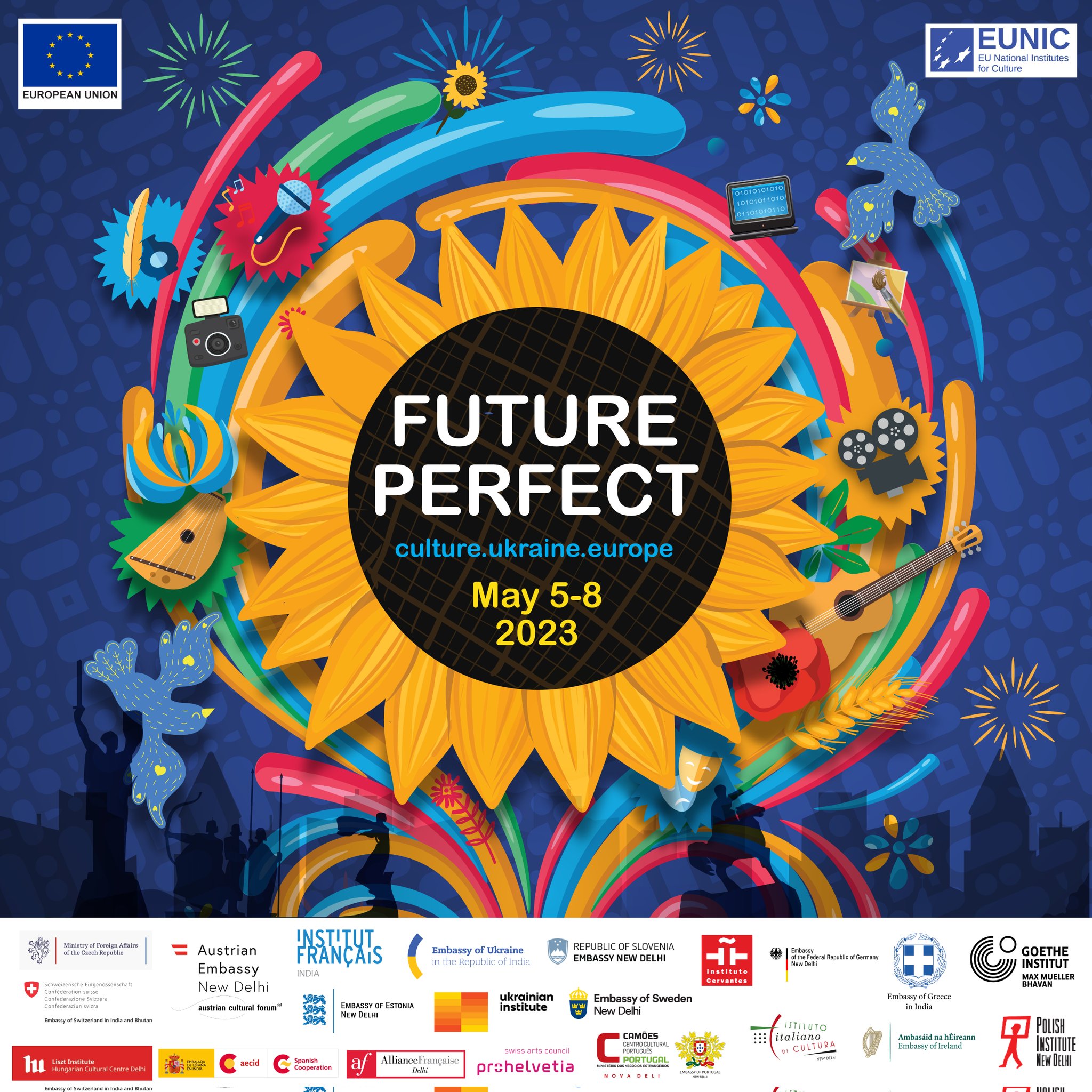 ---
MY FIRST VISIT TO INDIA by Tadhg Mac Dhonnagáin
17-24 January 2023
Working as I do in the Irish language predominantly; I am somewhat removed from the Anglophone world in my creative activity. This has always helped me feel a clear connection with the multilingual culture of continental Europe, maybe more so than other Irish writers, who work in English. Even so, I feel that I never fully understood how European I am as a writer until I got the chance to attend the Jaipur Literature Festival in India this January.
My novel, Madame Lazare, deals with, among other things, the question of religious identity, both Catholic and Jewish. Given my own vague grasp of the basic concepts of Hinduism, could I take for granted that an Indian readership would know who the Blessed Virgin Mary is or her significance in Catholic belief? Would my story be too culturally specific, too European for India, or would readers there see parallels with their own lived experience?
It was refreshing to get to stand back like this and think about what I do. All the while, I was being introduced to many interesting people, and through meeting them, get a sense of the complexity and richness of Indian cultural life; its many literatures, created in an impressive array of languages, its vibrant musical life, its beautiful architectural heritage, its wealth of spiritual tradition, its vast variety of regional cuisine and traditional dress.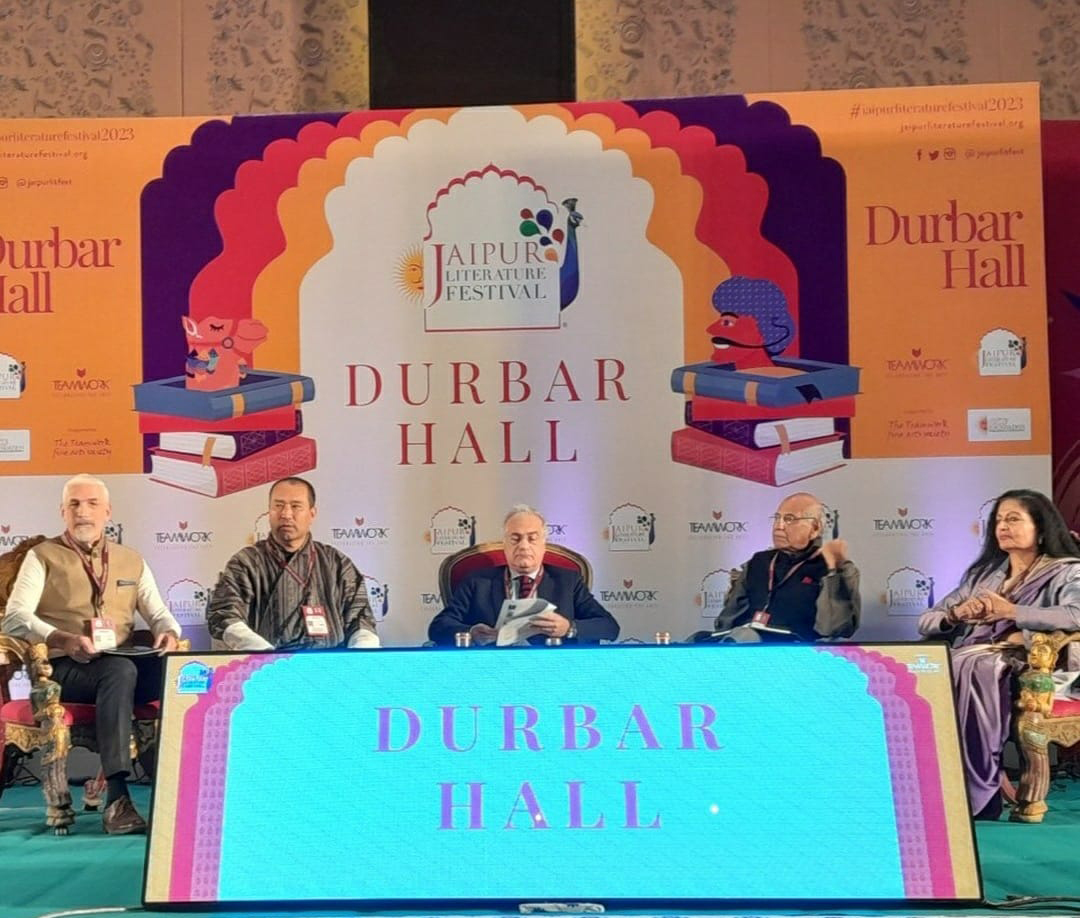 Organised by the European Union Delegation to India, the trip began with a very pleasant lunch graciously hosted at his residence by the EU Ambassador to India, HE Ugo Astuto at his residence in New Delhi. It was a very useful opportunity to meet like-minded people working in the arts, in the area of poetry, children's literature, film-making and literary academia.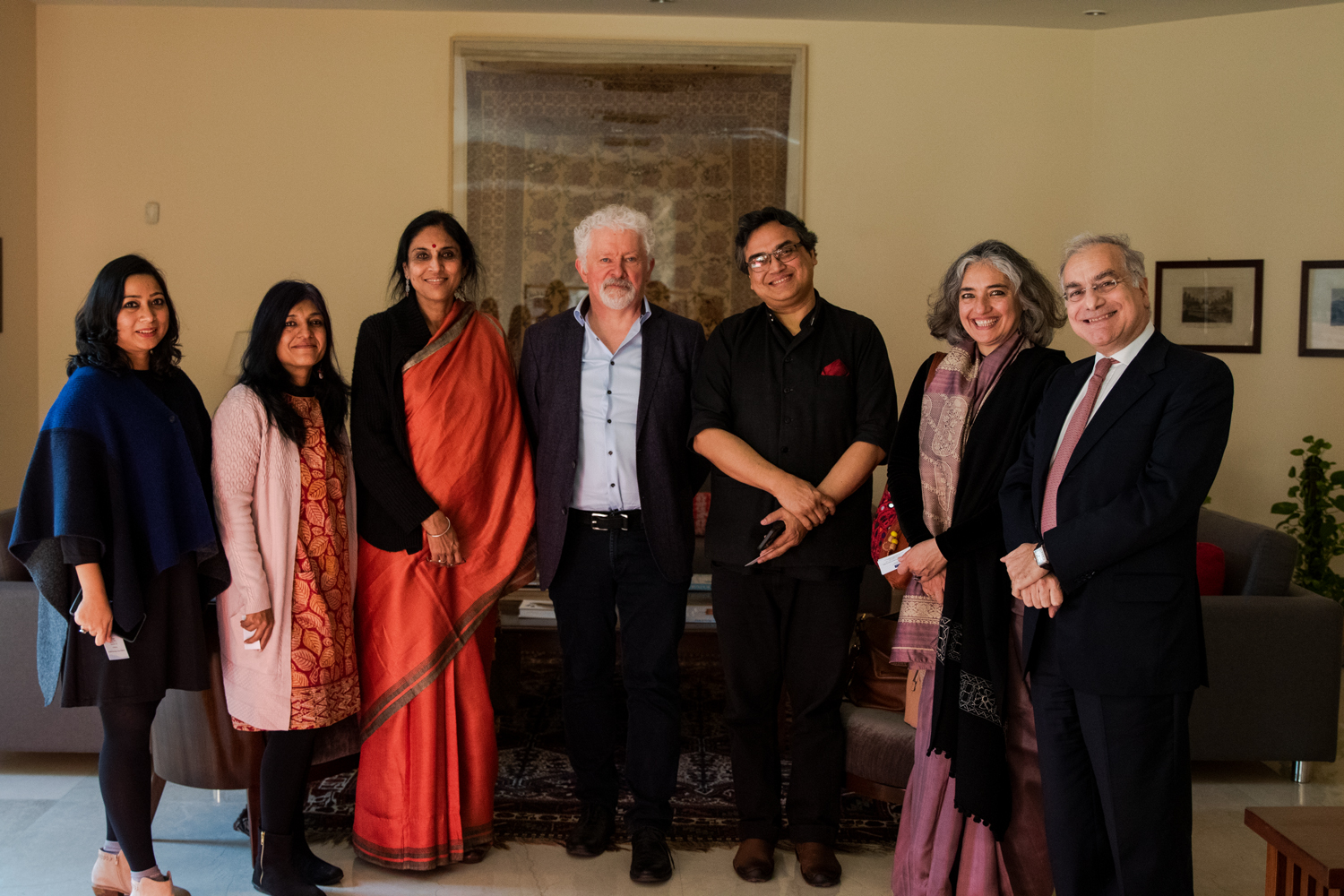 That evening, I was honoured to take part in a public interview with Professor Meenakshi Bharat of the University of Delhi and get the chance to interact with an audience of friendly booklovers in the capital city.
The Jaipur Literature Festival was the main destination of the trip. It was as multi-faceted and as vibrant as India itself. Running for five days on a sprawling hotel campus in Jaipur, the festival is an excellent one: a packed programme of interviews, panel discussions, concerts, readings, debates and parties. The public interest is very strong – though the venues were big, it was hard to find a free seat at most sessions. And, unlike many literary events in Europe, there was very lively engagement from the young generation. It was a great pleasure to share the stage, both in person and virtually, on a panel with writers Saskya Jain from India, Emily Perkins from New Zealand, Ana Filomena Amaral from Portugal and the other 2022 EU Prize for Literature laureate, Eugenia Kuznetzova, from Ukraine.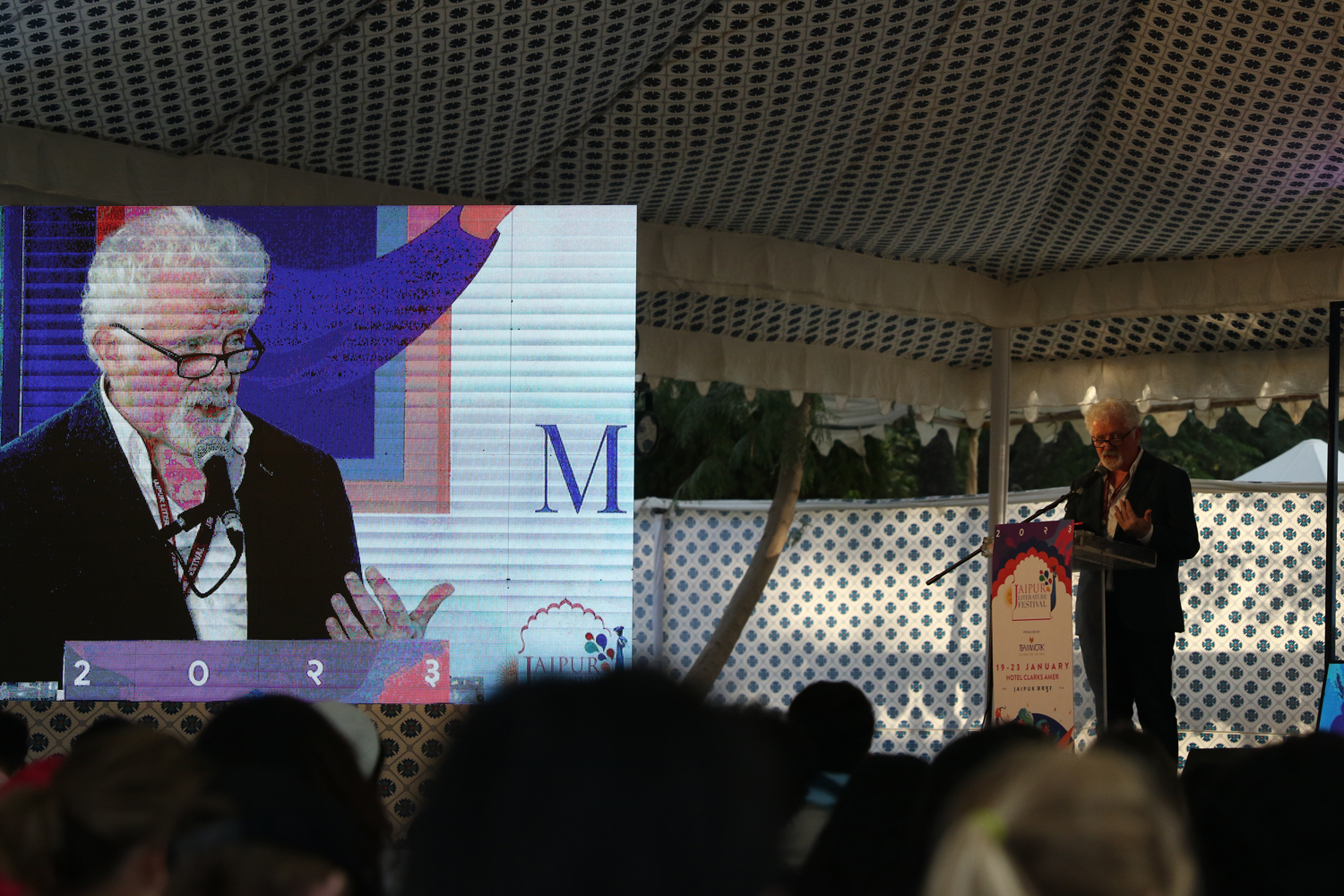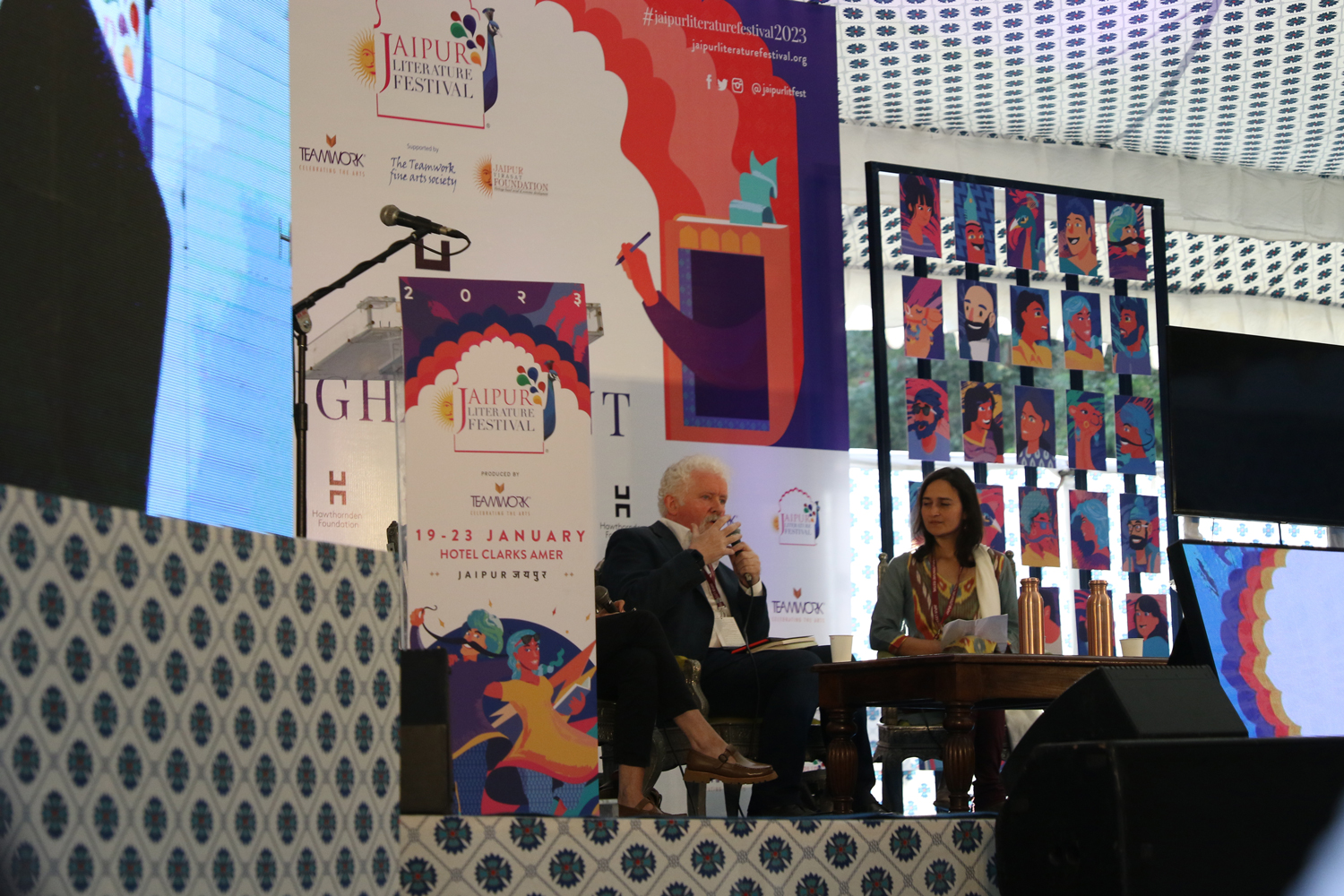 The programme for the visit was organised meticulously by Ms Hema Singh Rance, Team Lead for the European Union Policy & Outreach Partnerships Initiative, who travelled with us from Delhi to Jaipur. As well as the public appearances, she organised a range of key meetings with translators and publishers working in Hindi, Bengali, Tamil, Malayalam and English. These sessions were an invaluable opportunity to gather information from book professionals in India on the writing scene there and to explore the possibilities of translation and dissemination of my work in the subcontinent.
Overall, it was a mesmerising trip, an invaluable chance to make new contacts and get a sense of what a vast, complex, fascinating place India is. I can't wait to go back.
Photo credit: Tadhg Óg
---
WINNERS OF THE SPECIAL MENTION OF THE EUROPEAN UNION PRIZE FOR LITERATURE AT THE JAIPUR LITERATURE FESTIVAL
19-23 January 2023
The Delegation of the European Union to India hosted two winners of the special mention at the European Union Prize for Literature, Tadhg Mac Dhonnagáin from Ireland and Eugenia Kuznetsova from Ukraine at this year's Jaipur Literature Festival. While Tadhg Mac Dhonnagáin attended the festival in person, Eugenia Kuznetsova, joined in virtually and they both spoke at a session titled 'The Feminine Gaze' moderated by well-known author, Saskya Jain, who lives between Berlin and India along with Emily Perkins from New Zealand, Ana Filomena Amaral from Portugal. Each of the authors presented their take on what the feminine gaze meant to them and read excerpts of their works. Taking advantage of Tadgh's presence in India, the Delegation of the European Union organised an event with the author in conversation with Prof Meenakshi Bharat, a well-known writer, translator and cultural studies expert, who is also a faculty at Sri Venkateshwara College, New Delhi at the India Habitat Centre. Here's A glimpse from the session .While in Jaipur the author conducted interactive sessions at two schools in Jaipur, which were facilitated by Pratham Books.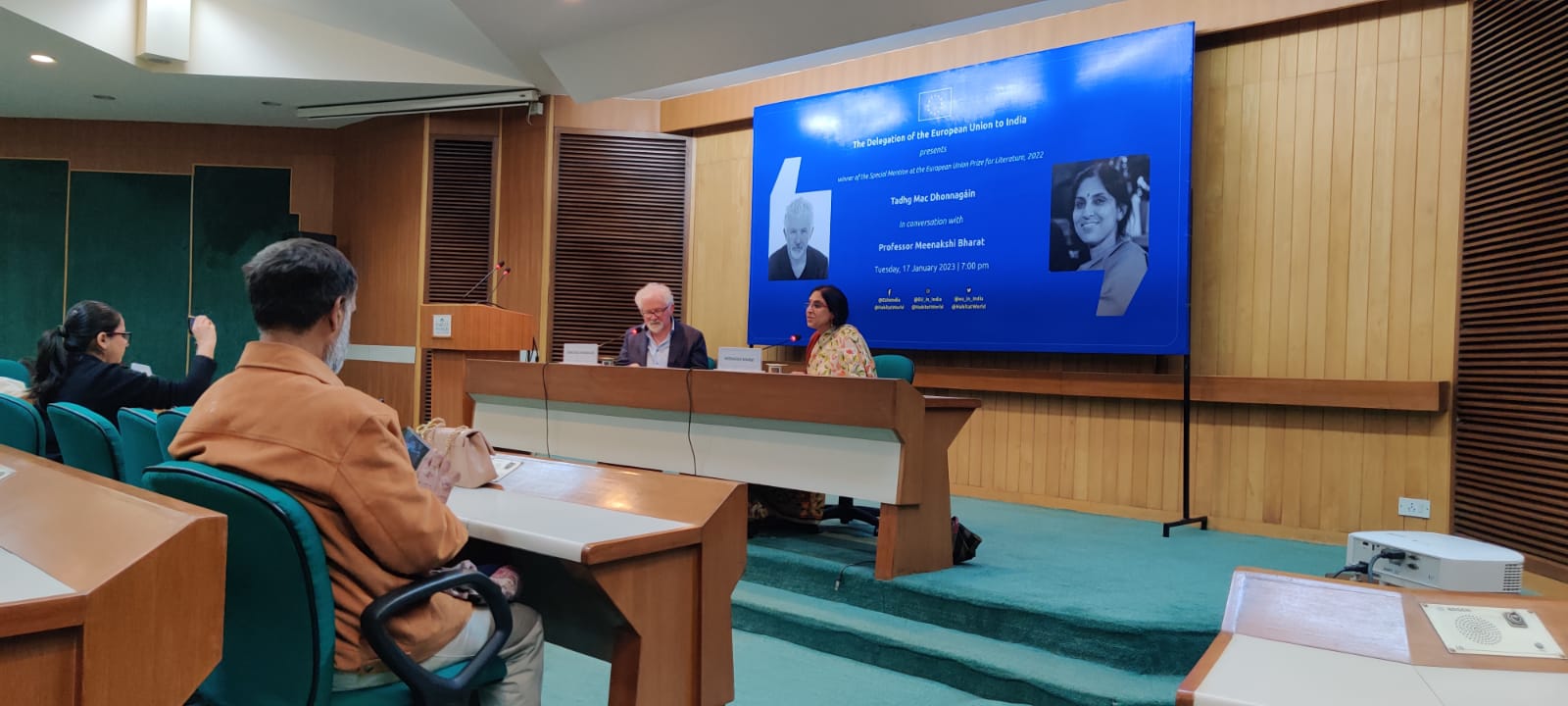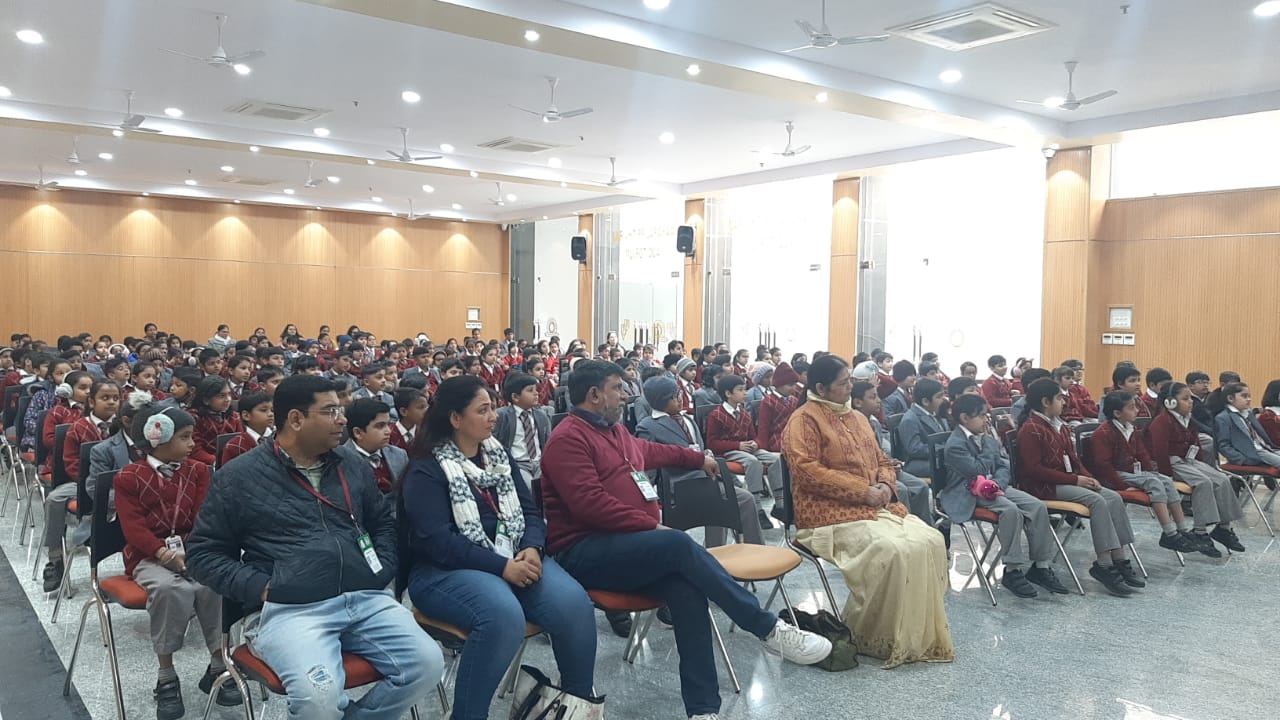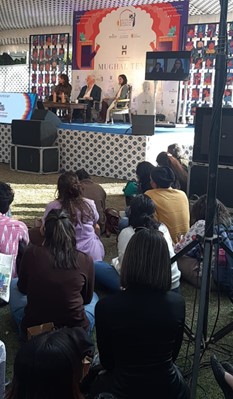 ---
EXHIBITION: SMART CHOICES FOR A SUSTAINABLE FUTURE
20-24 February 2023 at ITALIAN CULTURAL CENTRE, NEW DELHI
28 March -16 April 2023 at MUSEO CAMERA, GURUGRAM
Conceptualized in 2019, the Youth Climate Conclave Photography Competition each year has been attracting entries from across India. The main objective of this photography competition which is set up under the broader umbrella of the Youth Climate Conclave is to encourage creative engagement of the youth on global issues and highlight the critical role that youth can play to work towards a green and more sustainable future.
Comprising a total of 43 photographs, this exhibition presents the 24 best photos of the Fourth Youth Climate Conclave (YCC) Photo Competition, 12 in each of the age categories (10-18 years and 19-25 years), as well as the top three winners of the earlier editions of YCCs. This is the first time since the inception of the competition that the shortlisted photographs were shown in the public domain at the Italian Cultural Centre from 20 to 24 February 2023, along-side the Youth Climate Change Conclave. It was inaugurated by Ambassador of the European Union to India, HE Mr Ugo Astuto and the Ambassador of Italy to India, HE Mr. Vincenzo de Luca, Director General of TERI, Dr Vibha Dhawan and Ms Dhuwarakha Sriram from YuWaah, a UNICEF initiative. Many of the amateur photographers, whose work was on display were also present at this event and enjoyed interacting and talking about their work with the dignitaries.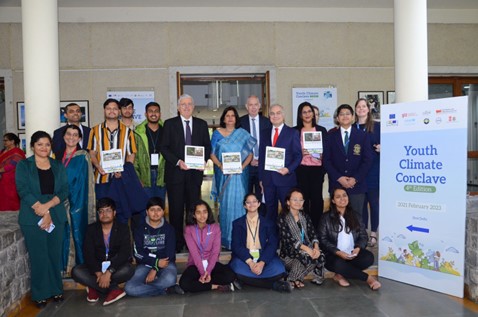 More recently, the exhibition was displayed at the Museo Camera, Centre for Photographic Arts in Gurugram for two weeks. Maria Rosa Sabbatelli, Deputy Head of Unit, Rapid Response Europe, Asia and Americas, Service for Foreign Policy Instruments of the European Commission inaugurated the exhibition during her visit to New Delhi.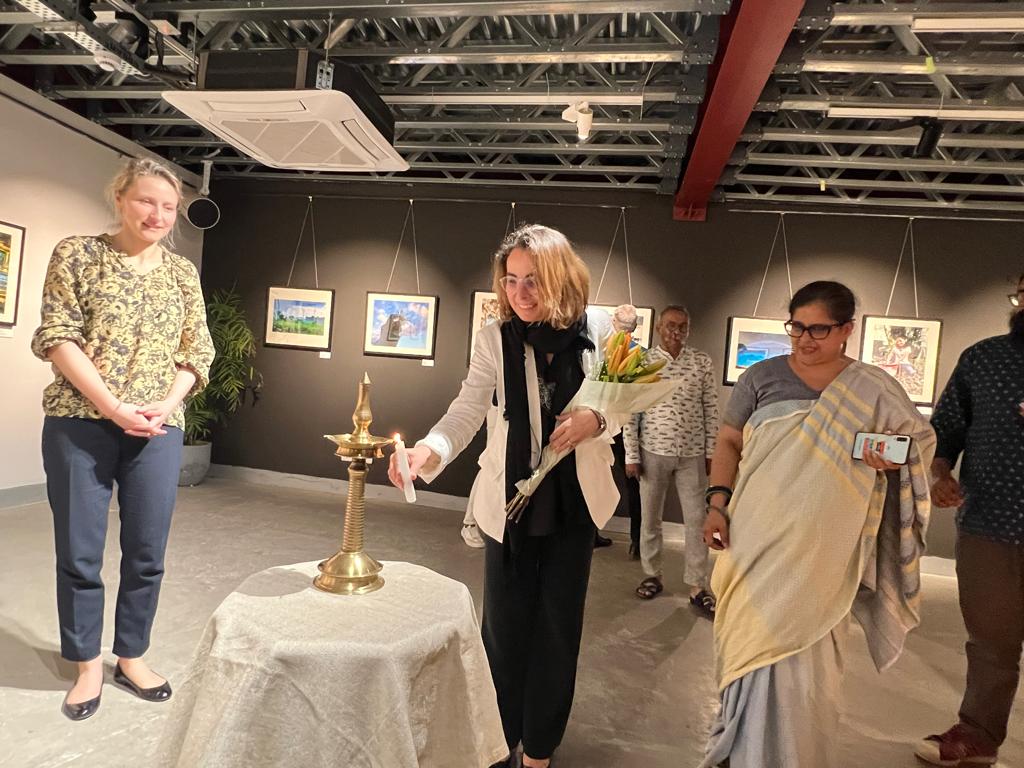 The photographs capture creative impressions by youth from all over India, reflecting their observations on climate change, its impacts and the possible positive actions youth can take, contributing to Mission LiFE. Between the two venues the exhibition has attracted close to 6000 visitors.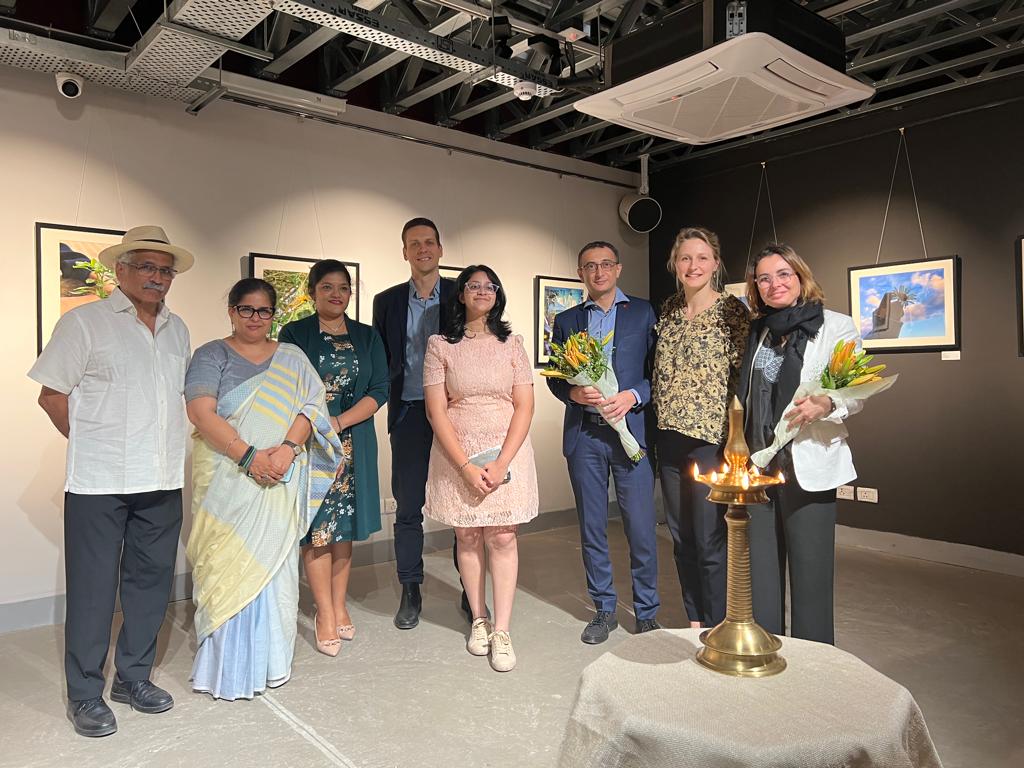 To read more about the exhibition and views of the organisers and the young photographers check out YCC Photo Exhibition - Indian Express Article
The Youth Climate Conclave is held in February each year in Delhi. It is co-organized by the Delegation of the European Union to India, UNICEF, TERI, GIZ and CEEW, with the Ministry of Environment, Forest and Climate Change (MoEFCC) as the Nodal Ministry. The call for the photography competition opens in November each year.
---
YOUTH CLIMATE CONCLAVE PHOTOGRAPHY COMPETITION WINNERS
FEBRUARY 2023
The Delegation of the European Union to India along with its partners UNICEF, TERI, GIZ and CEEW, with the Ministry of Environment, Forest and Climate Change (MoEFCC) is delighted to announce the winners of this year's photo competition.
---
ROUNDTABLE: WOMEN IN DIPLOMACY
28 March 2023
The European Union Delegation to India recently partnered with Women in Security, Conflict Management and Peace (WISCOMP) and the India International Centre to launch a unique platform on Women in Diplomacy. This platform aims to bring together women diplomats, researchers and advocates of gender sensitive foreign policy and gender equality to discuss and deliberate on how women diplomats navigate challenges and opportunities in the current times, and how they were inspired by their predecessors from the EU and India, who have been path finders and ceiling breakers. The panel also served to inspire and encourage young women and men to take up diplomacy as a profession and work towards a more equitable world.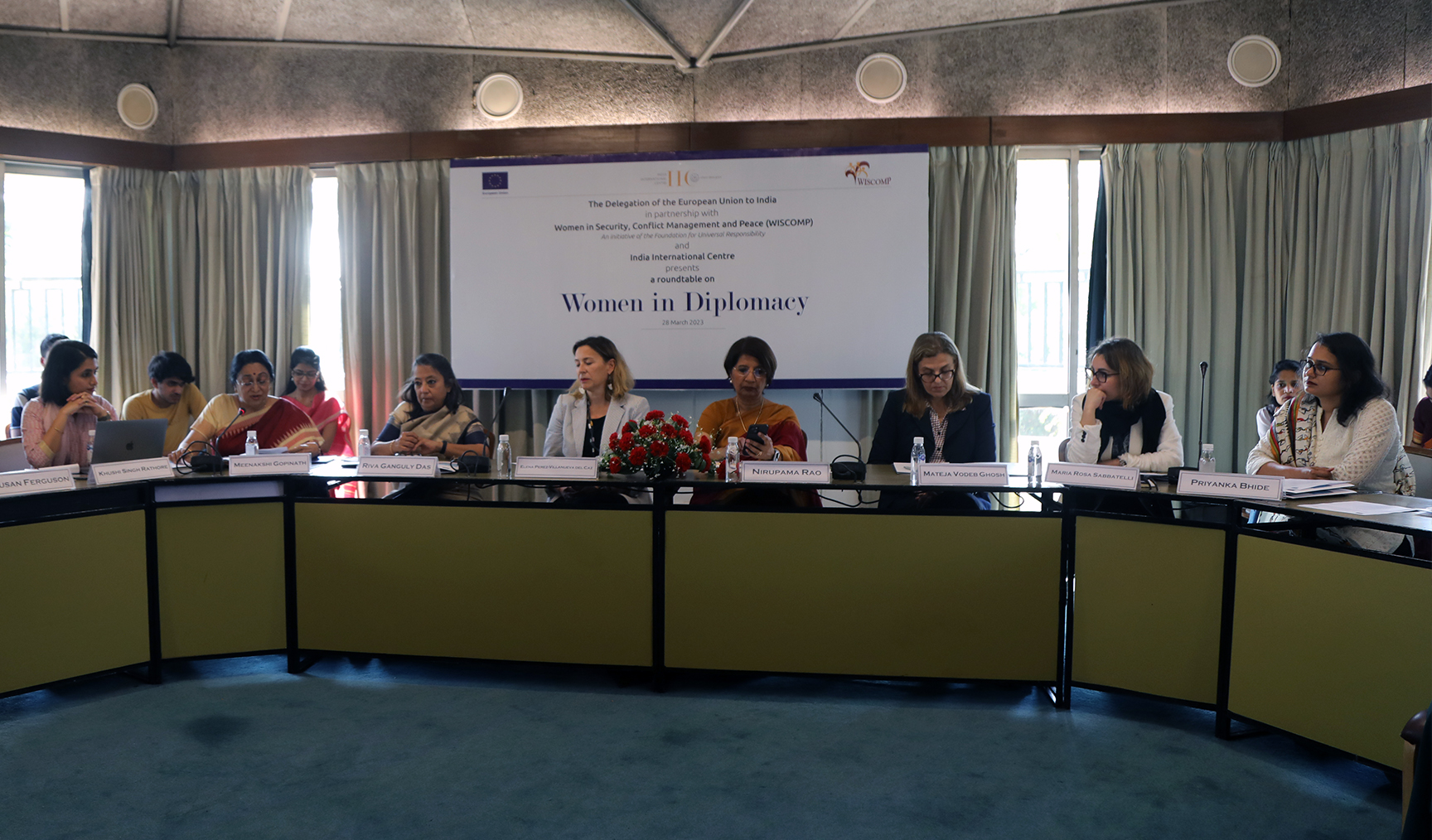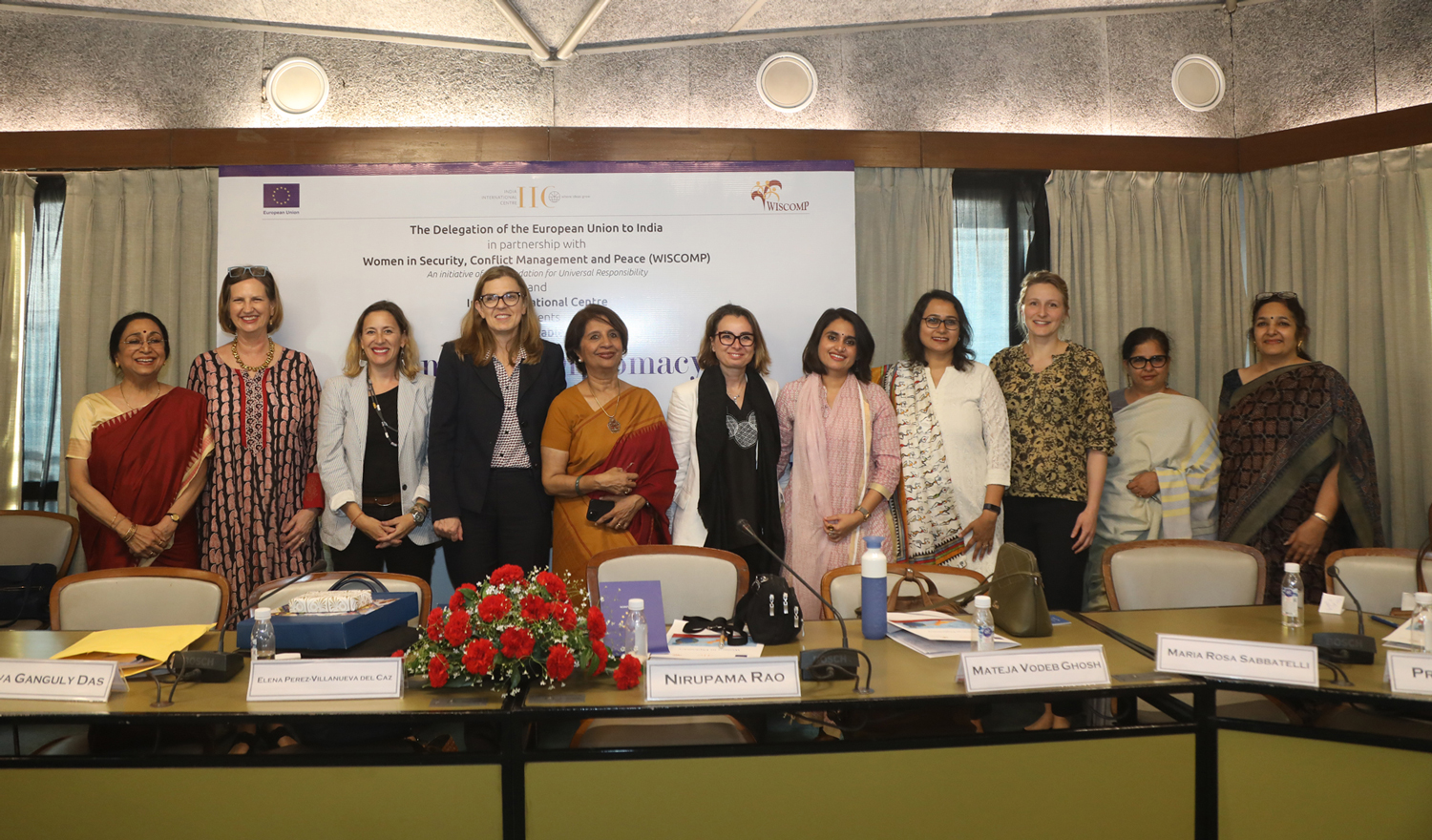 On Tuesday, 28 March 2023 several highly accomplished women diplomats from the EU and India including Amb Nirupama Rao, Former Foreign Secretary of India, Amb Riva Das Ganguly, former Secretary of Ministry of External Affairs together with their European counterparts Amb Mateja Vodeb Ghosh, Ambassador of the Republic of Slovenia in India, Nepal, Sri Lanka, Bhutan and Maldives, Ms Elena Pérez-Villanueva del Caz, Deputy Head of Mission for Spain to India along with Maria Rosa Sabbatelli, Deputy Head of Unit, Rapid Response – Europe, Asia and Americas, Service for Foreign Policy Instruments set the ball rolling for this forum They were joined by young prominent researchers Priyanka Bhide, Founder Director of the Kubernein Initiative ( an Indian Think Tank) and Khushi Singh Rathore, Research Scholar & Author at South Asian Voices. Steered and moderated by academic and mentor Dr Meenakshi Gopinath, Founder Director of WISCOMP, it set the framework and invited the speakers to draw upon their experiences, research histories and cultural contexts to shed light on various aspects of diplomacy from negotiating gender balance within the services to negotiating hardcore strategic issues and building intercultural linkages, as also the expanding sphere of public diplomacy.
The enthusiastic (young) audience members carried on to engage with the speakers, taking selfies and asking questions, which added greater zest to the proceedings. The formal session closed on a high note with the creative example of a public diplomacy initiative rolled out by the German Embassy on Naatu Naatu, a part of popular culture performed by the Indian and German Embassy.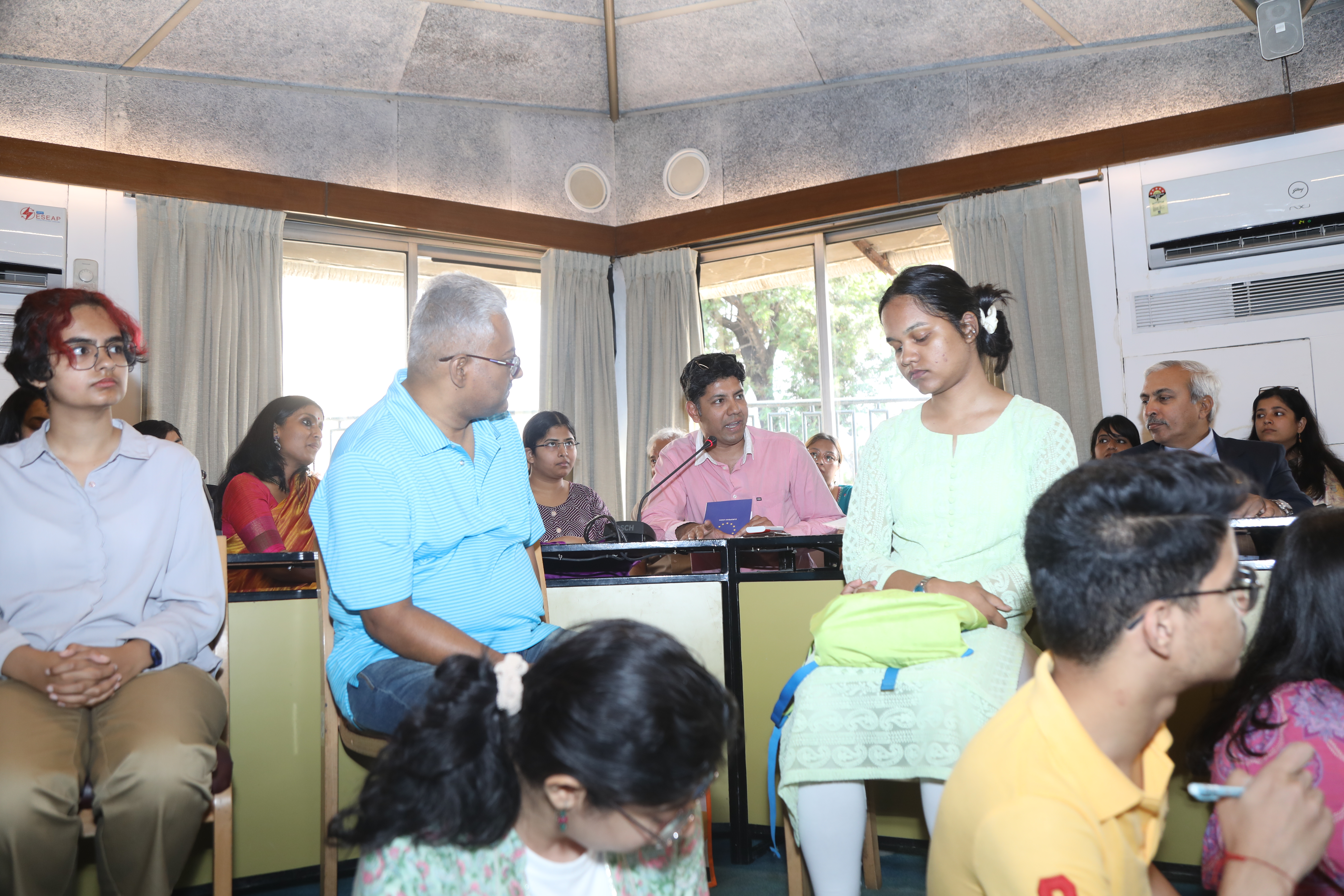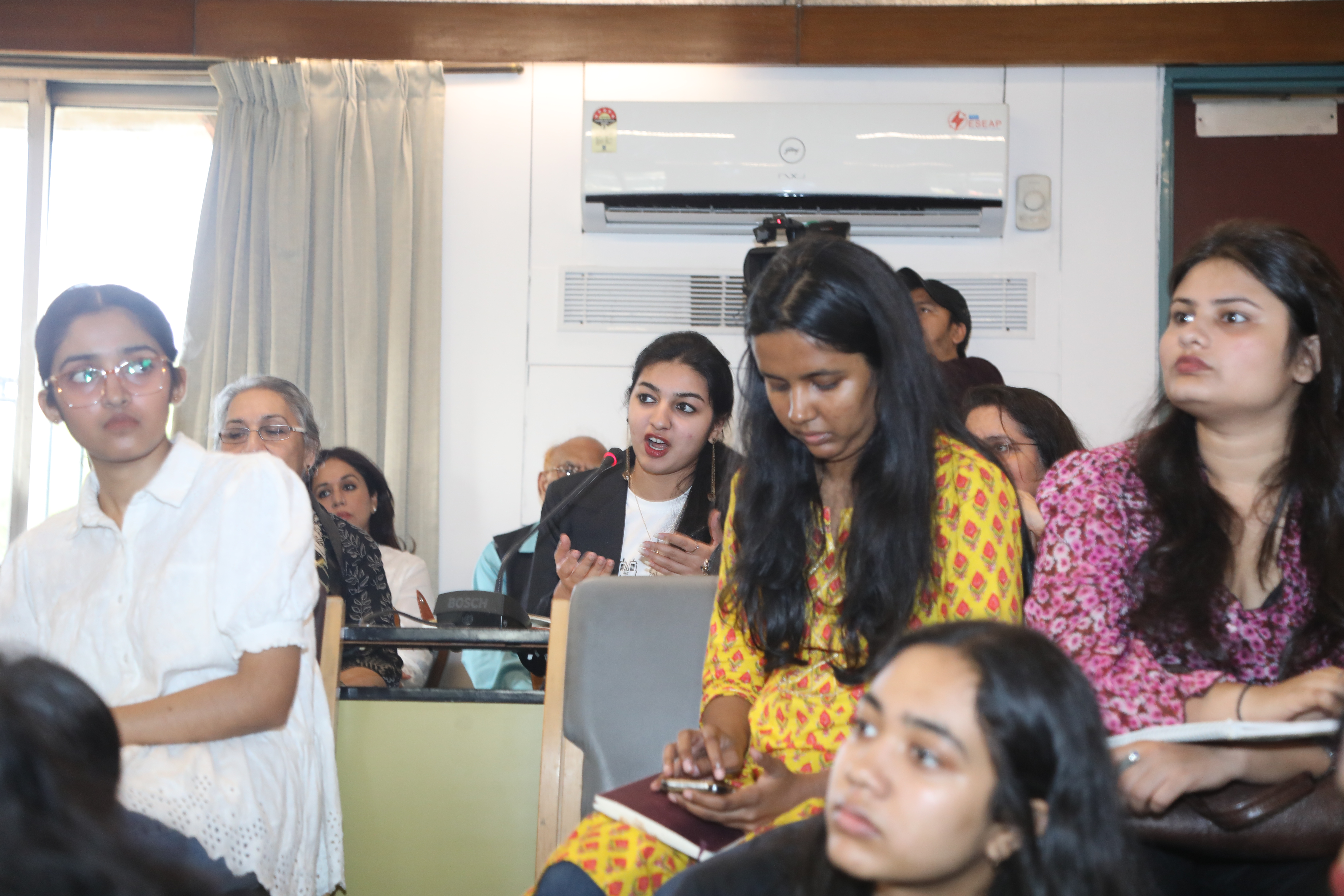 In case you would like to attend the future discussions please send an email eupop@altairasesores.es and we will be happy to add you to the mailing.
---
THE THINK TANK TWINNING INITIATIVE FOR CONSORTIUM COLLABORATIONS
February 2023
Following the call for applications to the Joint Online Research Collaboration under the EU-India Think Tanks Twinning Initiative 2022 – 2023. Four consortiums were awarded the call and they are:
Polish Institute of International Affairs and the Observer Research Foundation
University of Navarra and XKDR Forum
Pravesh Global Consulting, the Dialogue and Hertie School
Bridge Policy Think Tank and Università degli Studi di Milano.
Wishing all the awardees a meaningful and enriching exchange! Watch this space for reports, which will be published in the next four months or visit
EU-India Think Tanks
---
EXPERTS' ROUNDTABLE: PERSPECTIVES ON EU-INDIA COOPERATION IN TIMES OF GREAT POWER COMPETITION
27 March 2023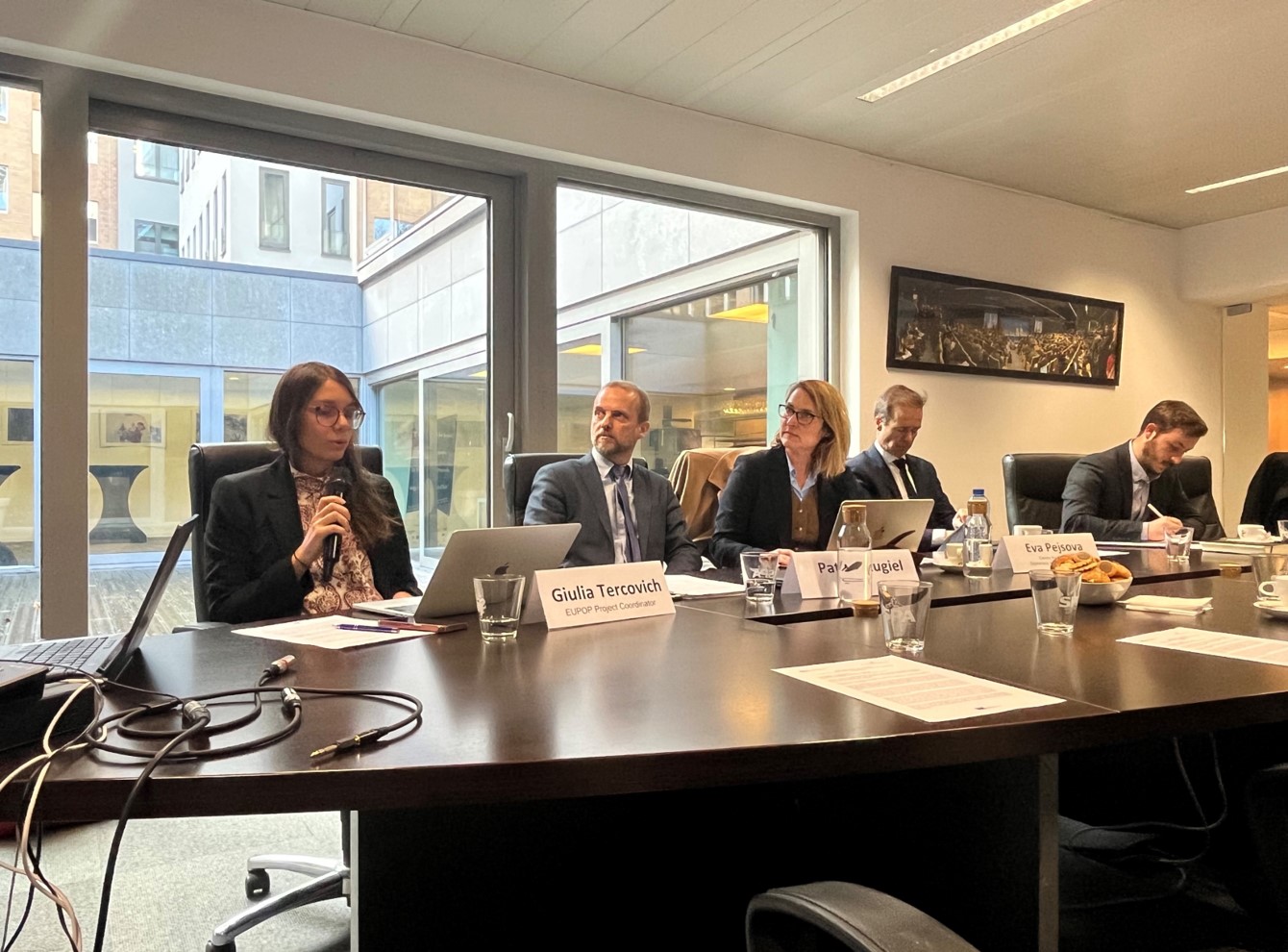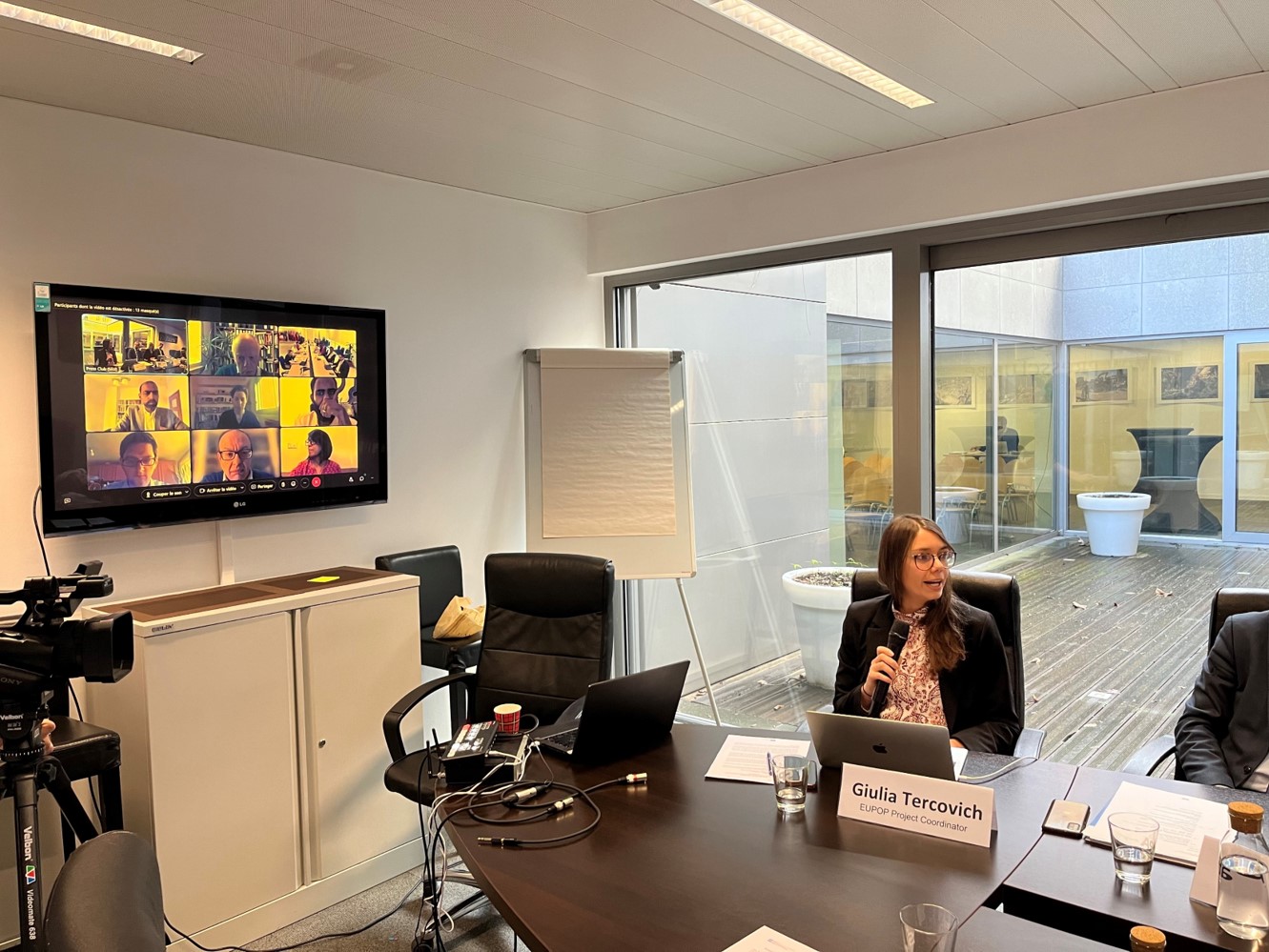 The European Union Delegation in association with the Centre for Security Diplomacy and Strategy (CSDS, Brussels) and the Polish Institute for International Affairs organised an Experts' Roundtable: "Perspectives on EU-India Cooperation in Times of Great Power Competition." Moderated by Dr. Giulia Tercovich, EUPOP Project Coordinator, this hybrid event was attended by 60 experts from India and the EU, both in-person and virtually. It provided a platform to discuss on a wide variety of topics including how the EU and India can collaborate to strengthen the international rules-based order, collaborate in the domains of health and digital governance and counter the disinformation threat posed by Russia and China. Maria Rosa Sabbatelli, Deputy Head of Unit, Rapid Response Europe, Asia and Americas for the Service of the Foreign Policy Instruments of the European Commission, who was visiting New Delhi on 27 and 28 March made the opening remarks to kick start the discussion. On the whole, this event provided a wonderful opportunity to experts and researchers to gain a deeper understanding of the dynamics within EU-India relations and brought to the fore the importance of collaboration between the EU and India to ensure global stability and prosperity. Read More
---
UPDATE ON THE 2023 EU - INDIA YOUNG LEADERS EXCHANGE
March/April 2023
Launched in March this year, the call for applications for the 2023 EU-India Young Leaders Exchange invited applications from European and Indian youth under 30 years, with the aim to promote dialogue and cooperation between them. This initiative will provide the participants an opportunity to deliberate on the challenges and opportunities of EU-India relations and participate in the discussions on important global issues. They will also have the chance to explore innovative ways in which both the EU and India can collaborate and work together. Follow us here for more updates.
---
EU DAY INITIATIVE
March/ April 2023
With the view to deepen the understanding about EU in India and informing on opportunities to study in Europe, the EU Delegation to India and Bhutan has been hosting different sessions in EU Higher Education Institutions in various cities in India.
In March and April, discussions with college and university students took place in Mumbai, Ahmedabad and Hyderabad.
Deputy Head of Mission Seppo Nurmi spoke and interacted with students at University of Mumbai on International Relations & EU Foreign Policy, Edwin Koekkoek, First Counsellor on Energy and Climate Action spoke to students at the PDEU University, Gandhinagar on Clean Energy Transition & Climate Action and Benoit Sauveroche, First Counsellor, spoke on Digital Transformation at IIIT Hyderabad.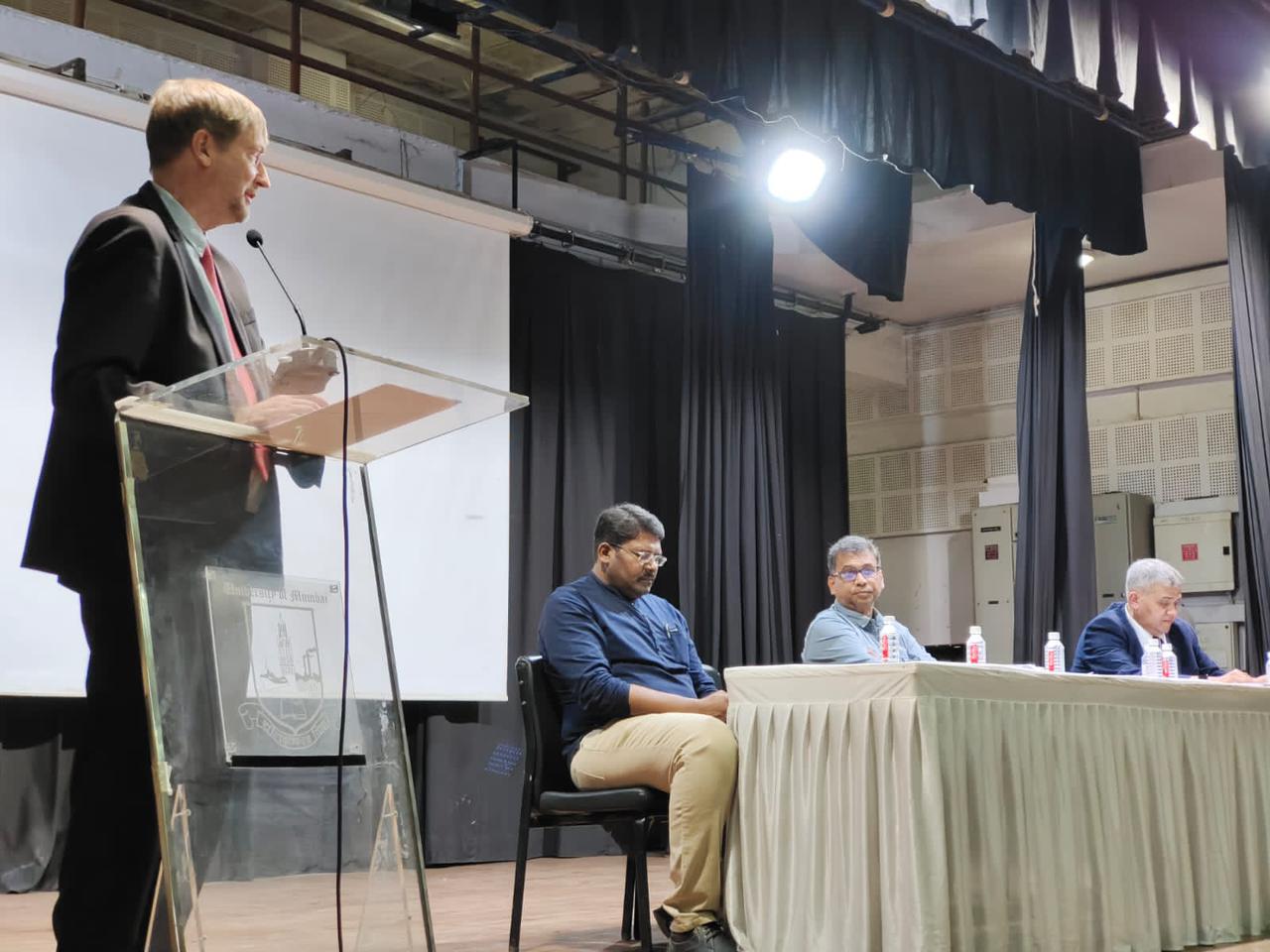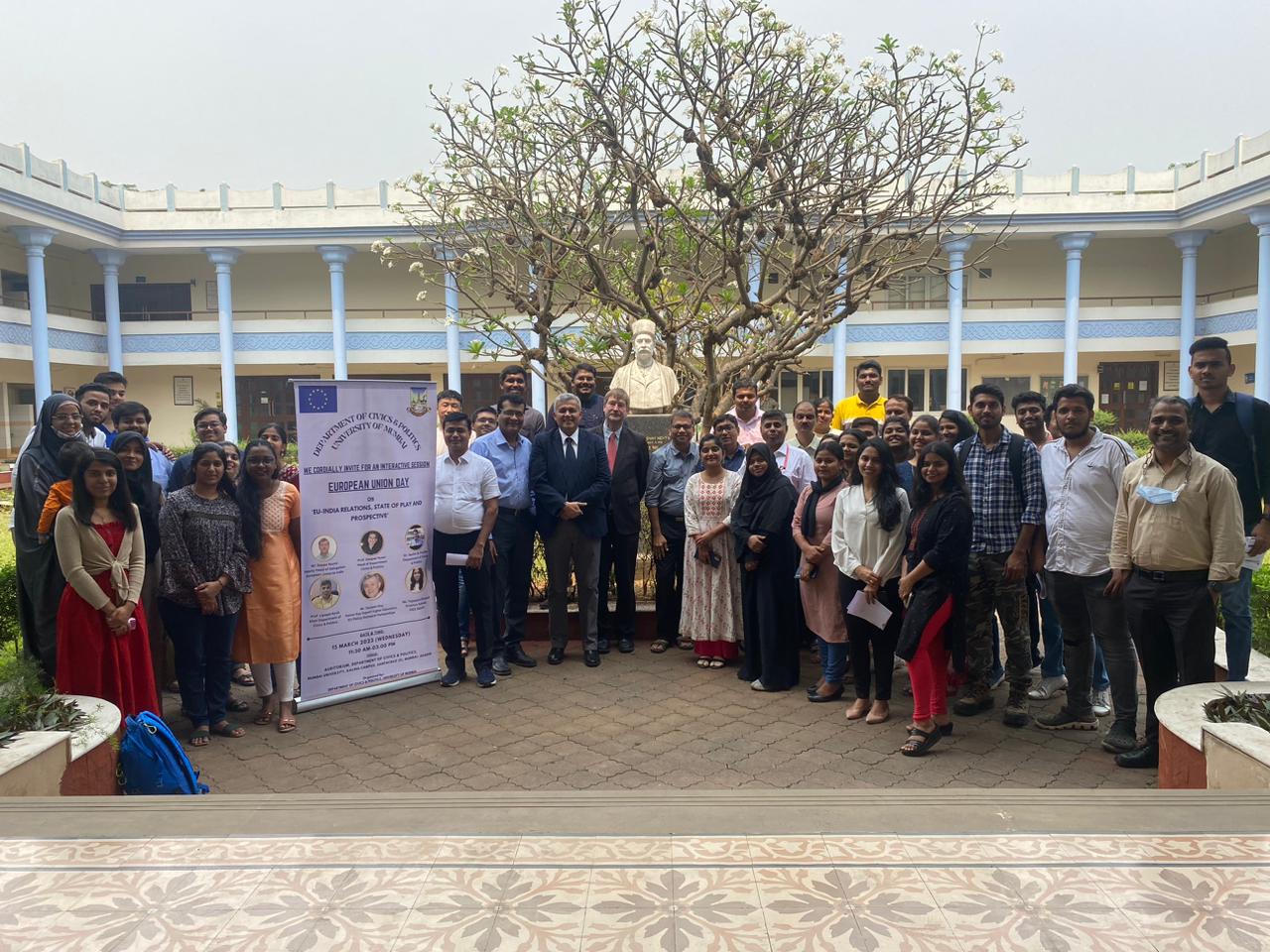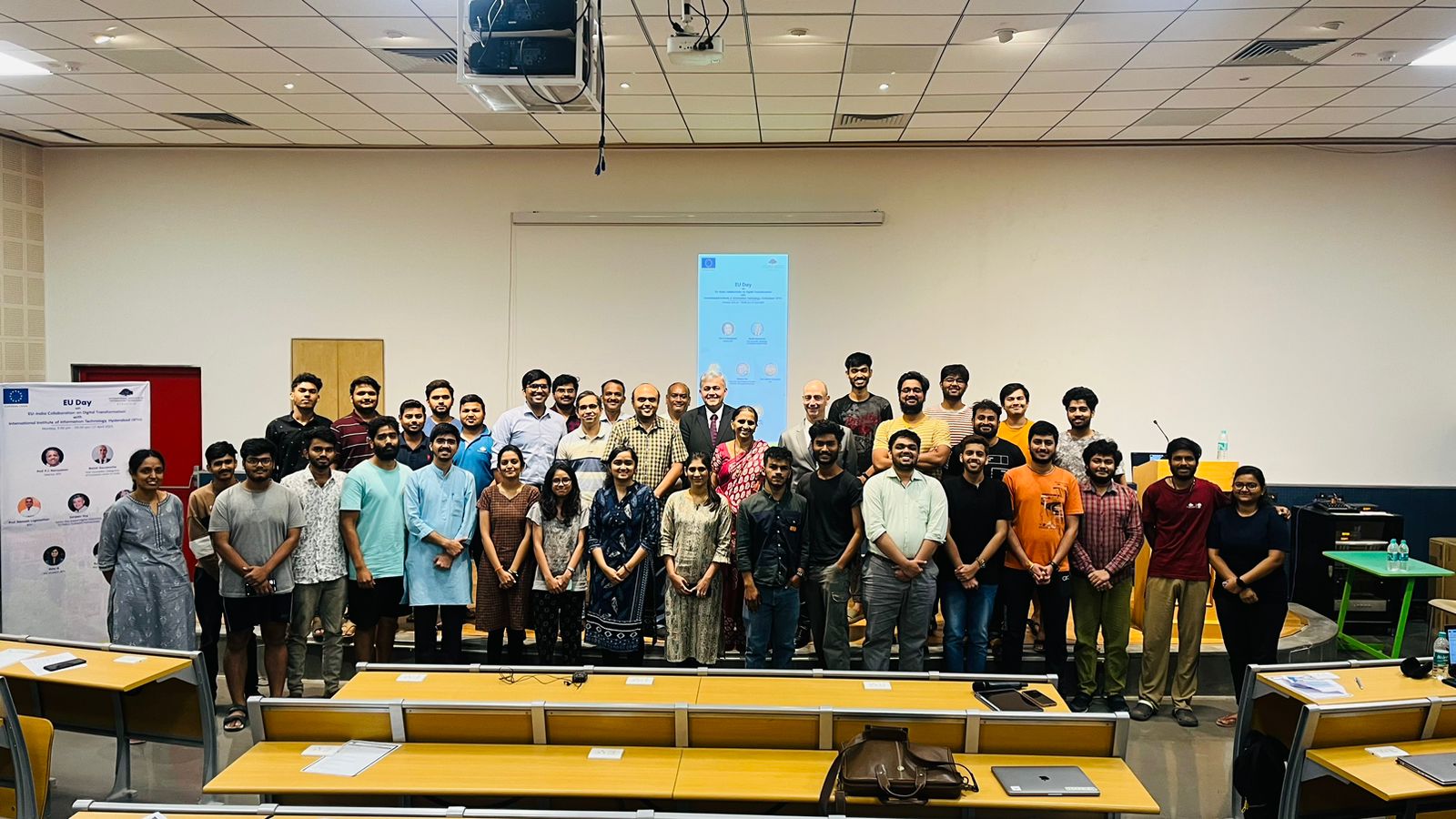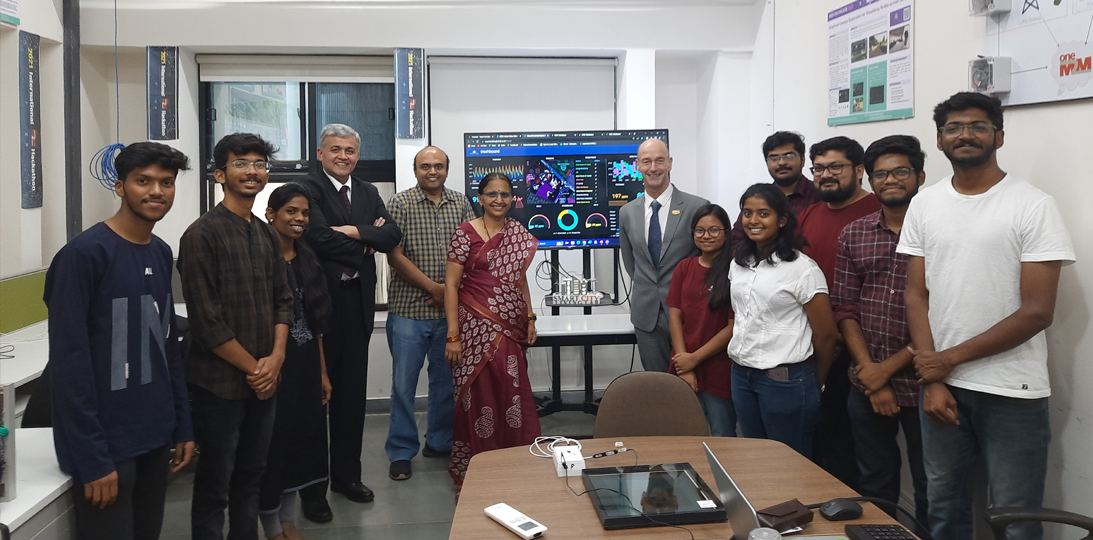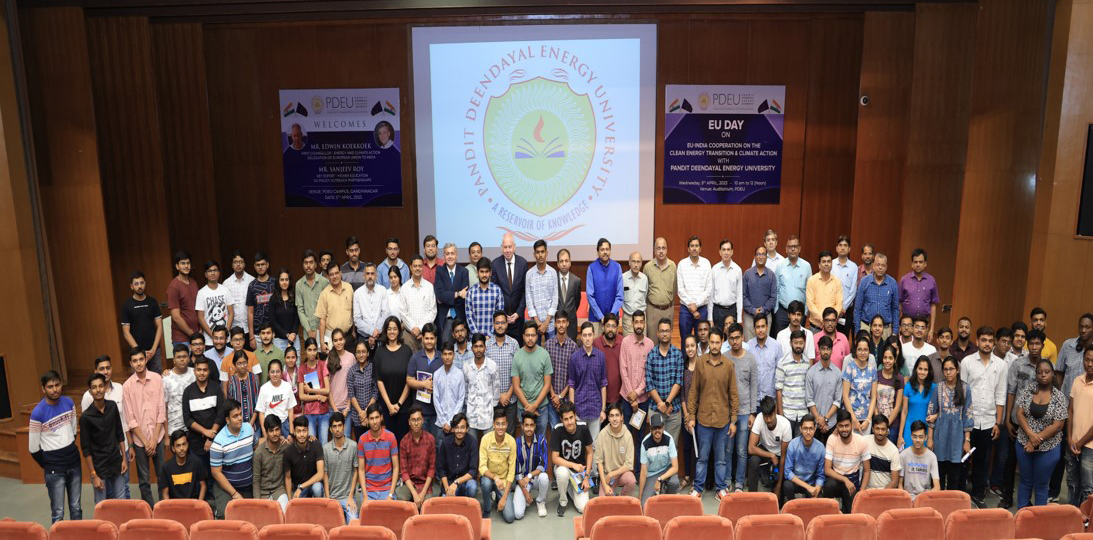 We also take this opportunity to present annual EU educational initiatives, such as the Erasmus Mundus program and the EU Higher Education Virtual Fair, which aspiring Indian students and professionals can explore to study in Europe.
In case you are keen to participate in this initiative and would like to organize a similar session at your current institution or would like the Education expert present about educational opportunities within the EU please write to us at eupop@altairasesores.es