We are public and the fourth largest university in Slovakia with around 9300 students offering teacher training, scientific & professional study programmes including teacher-training in Hungarian language and educating Roma ethnicity social workers.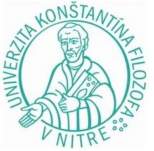 Nitra (Slovakia)
Trieda Andreja Hlinku 1
Tel. 00421 37 6408 031
We have succesfully ranked in SCIMAGO Institutions Rankings (SIR), World Academies Rank, Ranking Web of Universities, 4 International Colleges & Universities, EduRoute University Ranking and University Ranking by Academic Performance (URAP). Our university consists of five faculties: Faculty of Education, Faculty of Arts, Faculty of Natural Sciences, Faculty of Social Sciences and Health Care, Faculty of Central European Studies. We introduced ECTS system in all 3 levels of study. University also organizes lifelong learning courses (University of the 3rd Age), children summer schools and children summer university. To keep fair and stable relationship with our graduates we created a new space for communication with our graduates Alumni Space. We have 25 laboratories, we built "Agrobiotech" Research Centre and are member of two centers of excellence. Our research activities meet national and international standards in selected areas of research. Scientific research-oriented activities cover a wide range of natural, educational, philosophical and social-health care sciences in the field of the basic and applied research and in the fields of innovation, methodology, didactics, and particular forms and content of study programmes. Currently, there are 17 research teams formed by staff members within our faculties. Our university research, culture-education and other projects were funded by the Ministry and Government of Slovakia, 7th FP, Comenius, Erasmus+, Erasmus Mundus, International Visegrad Fund funds as well as from the EU Structural Funds. International activities have been carried out through international projects (former projects TEMPUS, LLP Programme, Leonardo da Vinci or Erasmus Mundus) and currently under Erasmus+, CEEPUS, through the co-operation with institutions such as as the British Council, the Goethe Institute, the French Institute, the Fulbright Commission, DAAD, International Visegrad Fund. UKF actively enters contacts offering student and staff mobility also through intergovenmental agreements of the Slovak Republic or UKF Bilateral agreements of cooperation. During the years Constantine the Philosopher University in Nitra has been hosting international guest teachers from Ukrajine, Republic of Belarus, USA, France, Russian Federation, Germany, Austria, Spain and Hungary. Our university offers a helping hand and suppport in providing housing (university dormitories), catering (university canteens), support for disabled students and out-of-school activites. International students get assistance also with managing student card, internet access, residence permit and health check-up, health insurance, translation of documents into Slovak Languages, Slovak Language Course (free of charge for exchange students) and help in communication during the study at stay in Nitra. International Students can attend different interesting socio-cultural & sport activities as well as trips organized by our Student Buddy organisation ESN UKF.