A well respected Estonian public University, the Estonian Academy of Arts is a leading centre of visual culture and specialist subjects include design, fine arts, art culture and conservation.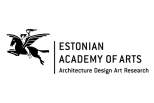 Tallinn (Estonia)
Estonia pst 7/Teatri väljak 1
Tel. +372 626 7301
The Estonian Academy of Arts (EAA) is the only public university in Estonia offering higher education in fine arts, design, architecture, media, visual studies, art culture, cultural heritage and conservation. It is also a leading national and international centre of innovation in visual culture. In addition to active study and research, the EAA also offers lifelong learning opportunities through the Open Academy. The 1,200 students currently enrolled at the Estonian Academy of Arts are taught by 83 professors, associate professors, teachers and lecturers. Additionally, 38 workshop managers are on hand to assist students. The Estonian Academy of Arts prides itself on their small student to professor ratio creating the opportunity for a more personal and one-on-one approach to instruction. Studies take place in small groups of carefully selected students. Many of the students participate in exchange programmes at international partner universities during their studies.
The EAA cooperates with almost 100 universities abroad and belongs to several international higher education networks. Annually, students are recognized in international design competitions. There are several accommodation options and these differ from one university to another as some universities provide student dormitories or hostels and some do not. Housing costs depend on the location, quality of accommodation and season, but the prices per month usually range from €80–€150 in the dormitories to €200–510 in private flats. The academy shares the student dormitory with the Academy of Music and Theatre: www.yhikas.ee. The dormitory ("Muusa Majutus") is located at Kuhlbarsi 1, which is 15 minutes walking distance from the main building of the academy, in Tallinn city centre. After you have received confirmation of acceptance, you should book a place directly through the online system. Please read carefully the rules and regulations and also pay attention to the site FAQ. Prices are between €85 -€200 euros.