Kozminski University is a business school with international accreditations: AACSB, EQUIS, AMBA. Classified in the rankings by the 'Financial Times'. The 1st among private universities in Poland!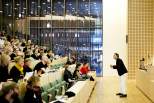 Warsaw (Poland)
57/59 Jagiellonska St., 03-301 Warsaw, POLAND
Tel. 0048 22 519 22 69
Kozminski University (KU), founded in 1993, is a private institution of higher education with full academic rights. The university has obtained Polish and international accreditations, as well as excellent results in global and national educational rankings which shows the high quality of its programs and services. Due to these qualities KU diplomas themselves have become coveted. The university's offers various Bachelor, Master's, MBA's as well as Ph.D. programs. All of these are also offered in English.
Since 2009 Kozminski University is classified in the prestigious educational rankings provided by the 'Financial Times' – Business School Rankings, which include the best universities from around the world. Moreover, for the past 15 consecutive years it holds first place throughout private universities in educational rankings published by 'Perspektywy' and 'Rzeczpospolita' and 'WPROST'. Kozminski University also received a special distinction from the National Accreditation Committee for its management, administration and law programs.
Kozminski University holds three international accreditations: EQUIS, AMBA and AACSB. Only 67 business schools from around the world hold all three accreditations. The AACSB accreditation is awarded to such prestigious universities as Yale and Harvard.
KU holds the rights to award doctoral degrees in the following disciplines: management, economics, finance, sociology and law. As the only private higher education institution in Poland, it has the power to authorize a higher Ph.D. degree (habilitation degree) in the discipline of management and economics. Also under the so-called parametric evaluation of research units within the field of economics Kozminski University boasts the highest first category ranking.
The educational offer includes: management (in Polish and English), management in virtual environments (in Polish and English), finance and accounting (in Polish and English), economics – international markets, law, administration, as well as social sciences in management: business and media sociology and psychology in management. Starting in the academic year 2010/2011 the university has created an elite law program called 'LAW+'.
Kozminski University is the sole proprietor of all the buildings on its campus. The school now has 6 large auditoriums as well as 26 classrooms and 24 workshop classrooms. The 4 cafeterias are available for faculty and students and are located on our premises as well as a bookstore, 2 photocopying offices, 5 coffee machines, cash machines, a post office, etc. Our parking facilities offer 400 places for students and 70 further places for our faculty and staff. The University also owns sport facilities including a playing field and 2 sports halls. In addition it rents out a swimming pool, a sauna - and basketball and volleyball courts. The Kozminski University Library is committed to being a user-oriented, electronic research library of high international standard.