Year of establishment: 1919
Mendel University in Brno, the very heart of Europe, consists of five faculties and one institute, which provide support to develop your interests. It amalgametes long tradition with high-quality studies producing highly employable graduates.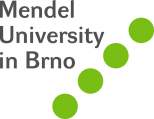 Brno (Czech Republic)
Zemědělská 1/1665
Tel. +420 545 131 111
Mendel University in Brno offers fantastic study opportunities at its faculties:  Faculty of AgriSciences  Faculty of Forestry and Wood Technology  Faculty of Business and Economics  Faculty of Horticulture  Faculty of Regional Development and International Studies  Institute of Lifelong Learning A new biotechnology building known as Mendel Pavilion provides superior facilities to students for their research in many well-equipped labs and ultramodern teaching premises for practical as well as theoretical lessons. MENDELU operates the University Plant and Animal Farm and the Forest Training Centre. Each faculty boasts excellent research results (e.g. MENDELU scientists made a significant discovery in the treatment of cancer). FBE ranked among the best faculties in the Czech Republic in years 2010 to 2016. FRDIS enables a unique focus on practical solutions for developing regions and their sustainable development. For international students The University offers over 250 courses in English in different fields of study. Every international student is provided with accommodation in MENDELU halls of residence. New incoming students participate in the Welcome Week at the beginning of the semester. Programme packed with social events, entertainment and supporting activities is organized by the International Student Club throughout the academic year. Most international students come from Southern Europe, Finland, Turkey, Mexico, Russia, Ukraine and Sub-Saharan Africa. Jorge Angel Santana Malles from the Canary Islands, who spent a year at MENDELU as an exchange student, says, 'Brno is such a charming and vibrant student city. And MENDELU? What a great place to study and just feel relaxed. I love it!' International cooperation Erasmus+ partnership with over 200 universities in Europe and more than 100 bilateral agreements with institutions from all over the globe. We offer a wide range of mobility options, possibilities to join international project and research teams and to participate in international conferences and seminars.