University of Nova Gorica, an internationally oriented university with a strong research character, offering quality studies in natural sciences, engineering, biotechnology, humanities, arts and management.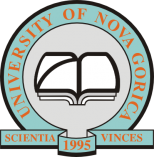 Nova Gorica (Slovenia)
Vipavska cesta 13, RoĹľna Dolina
Tel. 38653315234
At this internationally oriented university with a strong research character, located in an attractive sub-Mediterranean region bordering Italy, you will never feel merely Òa numberÓ. One of our main assets is undoubtedly our individual approach to our students - due to the highly favourable teacher-student number ratio, practically oriented studies and other opportunities for getting actively involved in one's area of studies, our students are able to develop their talents to the fullest. We encourage the students to take advantage of our state-of-the-art research equipment and engage in research yet during their studies, to work on numerous student projects and discover new perspectives through international exchanges with partner universities abroad. The interdisciplinary and practically-oriented nature of studies, including numerous active forms of learning, practical placements, students projects with partners from the industry, the students gain valuable experience and also establish contacts with their potential employers. This undoubtedly boosts their future employment prospects, reflecting in the excellent employment rate of our graduates: 93 % of them find work within one year after their graduation.