Since its founding in 1827, KTH Royal Institute of Technology in Stockholm has grown to become one of Europe's leading technical and engineering universities.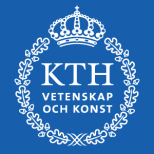 Stockholm (Sweden)
Brinellvägen 8
Tel. 0046 8 790 6000
"KTH Royal Institute of Technology is Sweden's largest and most respected technical university. Since its founding in 1827, KTH has been at the centre of the technological advances in Sweden. KTH offers more than 60 master's programmes taught in English and conducts world-class research in an array of technology and engineering fields. Its strong research reputation has reinforced the university's position as one of the most prominent technical universities in Europe and a force to be reckoned with globally.
Sweden and KTH have a tradition of attracting talents from all corners of the world. At KTH, you will have the opportunity to meet a diversity of people with different experiences, who will widen your horizons and challenge you to excel. KTH inspires students to look for invention in challenges and real-world problems, contributing to a brighter tomorrow. "