QS World University ranked Mykolas Romeris University (MRU) is an international social and humanitarian sciences University located in the capital of Lithuania – Vilnius.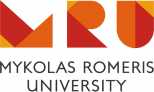 Vilinius (Lithuania)
LT-08303, Mykolas Romeris University, Ateities st.-20, Vilinius, Lithuania
Tel. (+370 5) 271 4674
Located in the capital Vilnius, Mykolas Romeris University (MRU) is the youngest one of most international public universities of Lithuania, currently having around 6,500 students from 65 countries. The University offers programs fully taught in English for international students at all levels - from Bachelor's to PhDs in the field of Social Sciences (Law, Psychology, Communication, Philology and Social Work) and Informatics.
University closely cooperates with 300 universities, public and private institutions and it is an active member of many international organizations: International Association of Universities, European University Association, European Association for International Education, etc.
University has modern and innovative infrastructure: recently built premises surrounded by green areas, the latest research and educational ICT equipment, one of the most modern academic libraries in Europe, open access to research resources, research and innovation management platforms, online studies facilities, etc.
In 2021 QS University rankings (EECA) 2021MRU upgraded by 10 places since last year and is now in honorable 132nd place.
By QS University rankings by Subject 2021 MRU is between Top 250 Universities worldwide to study Law.
MRU students enjoy:
Progressive, Dynamic, Modern virtual learning platforms
Multicultural environment.
Many services are completely free of charge: a huge parking lot, sports halls and gyms, foreign languages courses, song bands, dance and theatre studios, basketball team, wireless internet, cultural and educational activities etc.
Low living expenses (350-400 EUR/month with accommodation at University Students house)
A library that works even at night
Free introductory week for international students (informational seminars, trips, tours, cultural events)
A student visa allowing to travel all over the Schengen area
Scholarships for full degree seeking students and for international mobility (for studies and for internship)
European diplomas, which are easily recognized all over the world
King Sejong Institute where students can learn the Korean language and culture for free
One of the fastest public wifi in the world
Beautiful cosy Vilnius; fresh, clean air (cleanest in Europe)
MRU virtual Tour