The University of Economics - Varna was established as the first Higher School of Commerce in Bulgaria, following the industrial and cultural boom at the turn of the 20th century and the ever growing need for business training.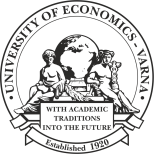 Varna (Bulgaria)
77 KNYAZ BORIS I BLVD.
Tel. +35952830812
Varna was enjoying huge economic development and had already gained full recognition as a major commercial hub.
In order to fulfill its mission, UE-Varna constantly works toward:
'ÄĘ providing full-time, part-time and distance learning academic programs in accordance with the highest European educational standards;
'ÄĘ developing its students' and doctorates' theoretical and practical knowledge, skills and expertise as well as their professional attitude and vast economic culture necessary in a competitive and dynamic socio-economic environment;
'ÄĘ conducting socially significant research in high priority scientific areas relevant to the development of social cohesion and competence-based competitiveness;
'ÄĘ providing the best resources and opportunities for professional development and growth to its academic and administrative staff;
'ÄĘ establishing useful, mutually beneficial and sustainable collaborations with the University partners in the educational area, business, public administration and all interested relevant domestic and international institutions.
Within its century-long history University of Economics 'Äď Varna has provided valuable training to over 155,000 professionals specializing in economics, including many international students from over 60 countries. As a result, UE 'Äď Varna graduates have pursued successful careers locally and internationally.
The University has been this country's major pillar of economics education and research, developing as an entrepreneurial and socially responsible organisation. Over 230 full-time members of faculty currently teach over 8,000 Bulgarian and international students. Over 100 faculty members are professors and associate professors. Academic staff are highly creative individuals who do research consistently, with over 40 per cent applying their expertise in their own businesses or in consulting services.
University of Economics 'Äď Varna is an accredited educational and research institution certified with ISO 9001:2015. In 2018, as proof of the university growing reputation, Bulgaria'Äôs National Evaluation and Accreditation Agency awarded University of Economics 'Äď Varna the top grade of 9.28 for institutional accreditation, fully acknowledging this HEI educational quality and its compliance with Bulgaria'Äôs Higher Education Act. This accreditation is valid for six years, enabling University of Economics 'Äď Varna to offer educational opportunities to 13,000 undergraduate and post-graduate students.
University of Economics 'Äď Varna provides a choice of 27 accredited undergraduate programmes in four professional fields: Economics, Administration and Management, Tourism, and IT and Computer Science. 26 master degree programmes are offered full-time (including full-time remote and full-time module education), part- time and distance education. The College of Tourism at UE 'Äď Varna trains undergraduates in two vocational degree programmes.
University of Economics 'Äď Varna supports educational and research exchange projects with international academic centres. It establishes and maintains international contacts and liaises with almost 190 universities internationally. It has been a partner HEI in a range of mobility exchange programmes, such as ERASMUS+, CEEPUS, TEMPUS, etc. Over five per cent of UE 'Äď Varna students complete work placements and internships internationally.
Over 300 international students from 52 countries are currently pursuing their degrees at UE 'Äď Varna. We are partners with 258 universities from 45 countries and we are one of the three locations (along with Valencia and Toulouse) for UK'Äôs Nottingham Business School work placements. We have over 1,770 corporate and public admin partners.
The University of Economics 'Äď Varna Research Institute incorporates six research and consulting centres that complete a huge range of projects. Over the years, generations of academia have contributed to the development of University of Economics 'Äď Varna and their commitment has transformed this higher education institution into a highly competitive educational environment:
'ÄĘ The University of Economics 'Äď Varna Library hosts over 350,000 books, an electronic catalogue, a digitalization automated scanner, a book check-in machine, and a scanning and reading computer terminal for the visually impaired in an area of 2,100 sq. m. The library won the 2011 Library of the Year Contest of the Bulgarian Library and Information Association. Today it is one of the most modern in this country, with subscriptions to the best databases and electronic publications. The electronic catalogue provides access to over 6,200 titles in complete texts. Since 2007 the library has been a designated European Documentation Centre, which receives and lends European Commission publications.
'ÄĘ The i-zone university project offers a fast internet connection and large-scale IT integration of all activities.
'ÄĘ The University of Economics 'Äď Varna Business Network (UEBN), one of a kind for this country, is a highly innovative e-platform for collaboration with businesses.
'ÄĘ The multifunctional university sports centre accommodates five specialised halls for students to do academic sports of their preference.
'ÄĘ The trendy Student Street accommodates the university bookshop, a bank office, the University Career Centre, the University Information Centre, the International Relations offices, the University Scholarships and Dormitories office, the Student Council office, and Conference Room 1.
'ÄĘ The Aula, the university 600-seat auditorium, offers a multipurpose stage, technically equipped to host a range of performances, screenings and other events within the Student Cultural Calendar, along with public events.
'ÄĘ The Academica University Art Gallery.
University of Economics 'Äď Varna was the 2015 Heritage Site winner of the Building of the Year National Contest. In 2016, the City of Varna prize was awarded to the university for the large-scale conservation of its classical building, the oldest of the three university buildings.
The university facilities are constantly improved to provide the best teaching and research opportunities. There are altogether over 110 lecture and research halls. Students have access to computer rooms, laboratories and department libraries for their seminars or self-study.
University of Economics 'Äď Varna is proud of its centennial legacy, gaining further recognition among European universities with its high quality education, knowledgeable and competent members of faculty, and European curricula. This university is one of the best HEIs internationally in terms of its strategic partnerships, the percentage of students who graduate within a standard period of studies, and in terms of student mobility involvement.
As the university fully recognises academic semesters that students spend studying at international partner HEIs, students may be awarded two simultaneous university degrees.
University of Economics 'Äď Varna students benefit from high quality education, a globally recognized degree and top career opportunities!