Internationally orientated, VUM is a modern business school which offers a wide range of high standard academic programmes, including English-taught Bachelor's and Masters double degree programmes.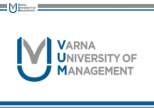 Varna (Bulgaria)
13A Oborishte str.
Tel. 00359 58 655 630
Varna University of Management (VUM) is a modern business school located in Bulgaria. It offers a wide range of programmes in Business and Marketing, IT, Tourism and Hospitality Management, Gastronomy and Culinary Arts. Bachelor's and Master's double-degree programmes are taught entirely in English and after graduation students receive both Bulgarian and British degrees from our partner, Cardiff Metropolitan University. VUM ranks high for its international orientation; that is why students from 40 countries come here to study. VUM cooperates with many universities in countries such as France, the Netherlands, Norway, and the UK. The staff and students of the university often participate in the international exchange programme, Erasmus+.
Varna University of Management has been awarded 3 Palmes of Excellence as an excellent business school for reinforcing international influence by Palmes for Eastern Europe. VUM also ranks 7th for 'International Orientation' among business schools in Central and Eastern Europe by Multirank. VUM is in the top 40 universities for General Performance among business schools in Central and Eastern Europe according to Multirank. Meanwhile, VUM's MBA programme was awarded the 'Best Master's Degree in Eastern Europe' by Eduniversal.
Varna University of Management also supports scientific and research activities. Many students write articles and publish them in international periodicals. VUM is amongst the top 300 business schools in the world based on the number of publications made by VUM faculty and students on Social Science Research Network. Lecturers and professors assist students with research activities. Among teaching staff are prof. Michael Minkov, prof. Stanislav Ivanov and prof. Vesselin Blagoev who are famous for their publications and research works.
VUM makes practical experience a main priority - and students have many great opportunities to take internships that will help them to gain valuable experience. VUM maintains excellent connections with businesses and it is proud of its long-standing success of placing students with top employers in the US, France, Spain, the UK and many other countries. Varna University of Management offers all the necessary study facilities for students. The university has a library with more than 20,000 books and articles in the field of Marketing, Tourism, Management, IT, Gastronomy. The library provides access to several electronic databases including EBSCO, SCOPUS, ScienceDirect and many others. The classrooms and study groups are small, so that teachers are more able to give individual tuition. The university provides students with a dormitory. Every apartment has a separate bathroom, kitchen, gas heating and WiFi. VUM has a number of its own training companies, e.g. restaurants, a tour agency, an accounting agency) where students can get trainings and start their careers. For Gastronomy programmes, there is a fully equipped laboratory for sensory analysis, research of colour, smell and also cooking experiments.