Offering a wide variety of high standard English-taught courses, the rigorous liberal arts system at AUBG teaches students how to think, not what to think! Be prepared for a world-class education in problem-solving, critical thinking and innovation.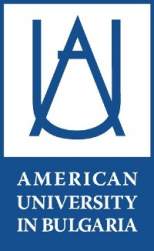 Blagoevgrad (Bulgaria)
1 G. Izmirliev Sq.
Tel. 0035973888111
Globally recognized diplomas, an international faculty ensuring academic excellence, and great career prospects are some of AUBG's key strengths. Moreover, the liberal arts style of education teaches students how to think, rather than what to think - and students have the freedom to choose additional courses and design their own curriculum. Students attending AUBG also benefit from small class sizes that enable close personal mentorship and our faculty members come from the world's top schools, including Harvard and Princeton, on five continents. AUBG's high academic standards are further complemented by our use of the latest teaching and hands on learning methods.
AUBG is also internationally orientated and it already attracts international students from over 40 countries. For students wishing to broaden their horizons we offer exchange programs with over 300 partner universities in 10 different countries. Moreover, AUBG is proud of its vibrant student life, state-of-the-art residential and teaching facilities, as well as a great location in the town of Blagoevgrad where close to 20% of the residents are students. Demographics and the fact that the university is located in the Struma river valley which benefits from a Mediterranean style climate, helps create a great atmosphere for enriching the student experience with extracurricular activities, cultural, sports and other leisure events.
Ultimately each student is interested in life after AUBG. With this comes career success, postgraduate studies, and the support of our alumni network. AUBG graduates are natural leaders and smart team players - which is why so many of them get top jobs at international companies around the globe. Our alumni have a great reputation for academic excellence and many have gone on to the best graduate schools in the US and in Europe. Once they leave campus however, they remain part of a supportive, connected and global network. Graduates can always rely on fellow alumni for career support or a place to stay when you travel abroad.
7 reasons why students love life and learning at AUBG
1. A Liberal Arts degree from AUBG is a passport to the world. Students graduate with two diplomas with dual accreditation in the US and EU
2.Outstanding faculty who come from the world's top schools from five continents.
3. One-of-a-kind dynamic multi-cultural environment composed students from 40 countries.
4. More than 40 student clubs on campus for every interest – music, sport, multimedia, entrepreneurship.
5. Modern and safe residential campus, situated in the Blagoevgrad, a student-friendly city where every fifth resident is a student.
6. Exchange programs with over 100 universities around the world.
7. Close-knit alumni network of around 4,000 successful alumni around the globe.