Year of establishment: 1994
One of the first Bulgarian private colleges to specialise in Marketing, Management and Trade, MT&M College combines high-standard academic courses with rich practical experience and it is known for its global outlook and approach.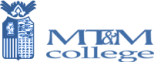 Sofia (Bulgaria)
126, Tsar Boris III Blvd.
Tel. +359 2 4456 148 ; +359 889 869 400
MT&M College was granted institutional accreditation by the Board of the National Agency for Assessment and Accreditation (in Bulgaria) and we take pride in the fact that all of our institutions management courses are based on international best practice. Equally, we are proud that so many of our students occupy so many top positions not only in Bulgaria but also in the US, Europe, and Asia. MT&M College is well-known for its high quality courses and the EUROPASS Supplement issued with its Diplomas for Higher Education is also internationally recognised.
Overall MT&M's main objective is to continue its development as a sustainable modern and attractive European educational centre for research, development and the training of specialists. What makes the College different from other schools is its global, tested and people-oriented approach to marketing and entrepreneurship. The College mission and objectives are determined by the Trustees, and since its foundation the College has benefiteed from a nucleus of professors of good reputation with a strong track record in interesting academic research.
Traditionally the College employs lecturers with rich practical experience, leaders of successful businesses or recognized and prominent professionals. The College boasts a remarkable achievement - field studies conducted by more than 1,500 students, guided by their professors in different countries (France, Spain, Italy, Poland, Greece, Turkey and Macedonia). Inspired by the College's Motto – NON SCHOLAE, SED VITAE DISCIMUS – (Not for School – For Life we learn!) more than 5,000 young people are proud to call themselves graduates of the MT&M College.
Over 500 students pass through the auditoriums each year and 75% of the graduates continue their studies to acquire a Masters Degree. Students from Turkey, Macedonia, China, Poland, the Seychelles and other countries are integrating themselves within this group. Thirty MT&M students have founded a Student Society for European Integration. The initiative is designed to present topics on European Integration in an accessible way and to provide young people with the opportunity to gather more practical experience. MT&M College also has an expanded Erasmus Academic Exchange international charter - which enables our students and lecturers to obtain additional skills and competences at universities and vocational schools all over Europe. Undergraduates participating in the program are provided with preparatory classes in English to improve their language proficiency. Our Erasmus partners are universities in Belgium, Denmark, Spain, Portugal, Cyprus, Lithuania, Norway, Poland, Turkey, Lithuania and Latvia. With a strong international outlook, MT&M is popular with international students from many countries - and 60 students from India have applied to study at the College this year.