A leading graduate school of management in Western France, Audencia Nantes is known for its prestigious programmes and international make-up.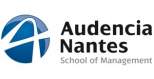 Nantes Cedex 3 (France)
Audencia Nantes School of Management 8 route de la Jonelière, B.P. 31222 44312 Nantes Cedex 3 France
Tel. +33 2 40 37 34 34
Audencia Nantes School of Management is a high quality learning environment with a global outlook. Audencia belongs to an exclusive group of the 68 business schools worldwide to hold the prestigious "Triple Crown" accreditation (AACSB, EQUIS and AMBA), and its programmes are ranked in publications such as The Economist, Financial Times, America Economia, CNN Expansion or Corporate Knights. Located in the city of Nantes in Western France, which is also known as the Venice of the West and was named European Green Capital by the European Commission for its commitment to sustainable development. It is a safe student city of 600,000 inhabitants with the highest ratio of international students in France (10%). Audencia recently opened new campuses in Paris and in Beijing. It has been training managers and entrepreneurs since 1900.
Lately the school has been distinguished by the United Nations Global Compact Office as a champion of the management of innovation for solving economic, social and environmental issues. The portfolio of Master and MBA programmes includes International Business, Supply Chain, Sustainable Business and Agribusiness. A team of admissions advisors helps prospective students determine which programme is most suitable for their career plan and skills. Audencia is truly an international school and has 13,000 alumni in 84 countries and 27 chapters worldwide in cities such as Shanghai, New York or London. One out of each three students comes from abroad and English proficiency is mandatory for all students, French or international. Audencia also has three career forums per year with over 100 companies attending, and there are over 16,000 internship postings on Audencia's intranet per year. A team of committed career advisors also make Audencia a good option for rapid career progression. Audencia Nantes is one of 25 Champions of PRME named by the United Nations to lead the field of corporate social responsibility teaching and research worldwide.
As an international student in a new country, it is important for you to know how much money you should budget for your time in France. To help you prepare, you can find a typical budget that includes the approximate expenses a student may incur during their time in Nantes on this site: http://fr.calameo.com/read/000137206cc2339827eac. You have several different accommodation options in Nantes: there are student residences, young workers' accommodation, hostels, host families, and private apartments. We are happy to help you find information about available accommodation options, We are in contact with approximately 100 families who host international students. You may request this list from the International Office staff or check our blog about housing: http://audenciahousing.blogspot.fr/p/blog-page_60.html