Located in Europe's largest High Tech Park, Eurecom is a leading engineering graduate school and research centre in communications systems, with a fully English-taught curriculum.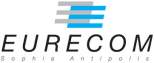 Biot (France)
Campus SophiaTech, 450 Route des Chappes, 06410 Biot
Tel. +33 (0) 04 93 00 81 00
EURECOM is a French engineering graduate school and research centre in communication systems. It is the only graduate school in France with a 100% teaching in English and it is administered by a consortium of international leading companies and universities. This specificity guarantees that the education delivered at EURECOM meets both international quality standards and market needs. EURECOM is a member of the "Institut Mines Télécom", a French leading group of engineering schools bringing together 12,000 students. EURECOM is situated in the heart of Sophia Antipolis, Europe's largest High Tech Park and benefits from the active involvement of all high tech companies which provide internship and employment opportunities for our students. Our campus is located close to one of the world's most attractive locations: the French Riviera between Nice and Cannes, enjoying 300 days of sun and within short distance of beaches and sky slopes. EURECOM offers degrees fuelled by the latest advances in research and tight partnerships with companies. Research enjoys world-wide recognition with a high publication rate from its international faculty. EURECOM's teaching puts a premium on providing students with a cutting edge experience with projects and a paid 6-month internship in a company. EURECOM provides a database of internship opportunities and organizes workshops to help students in their future job search (CV, motivation letter, interviews). Organization of internship fairs with companies enable students to directly meet with company HR managers. This background helps our students secure full time jobs prior to graduating both in France and abroad.EURECOM enjoys a strong multi-cultural environment with 65 % foreign students from 30 nationalities. India is the most represented nationality among our international Master' students. Since the launch of the Master's programs in 2004, 72 Indian students have been enrolled in Master and Post master's degrees at EURECOM and 2/3 of Indian alumni are currently working in France (20% work in another Western country and 10% work in their home country). EURECOM' size (250 Master' students) allows for individual monitoring. A dedicated and experienced team of managers provides personal assistance to international students at all stages of their study.EURECOM delivers Master and Post's master degrees recognized by the State: - International Master's degree: €11000 for the whole program (€5500 per year) - Post Master's degree: €12000 for the whole program (€6000 per year) EURECOM offer partial tuition fee waivers (up to 50%) for highly ranked students. Scholarship opportunities are also available for students from priority countries such as India. Monthly living costs in France are assessed at €700-800/month depending on the type of accommodation. EURECOM' students live in private and public residences or share flats rent by private landlords. EURECOM helps them apply to the national housing subsidy.