UCAM Universidad CatĂłlica San Antonio de Murcia is a private university founded in 1996 with a clear mission: to provide students with the knowledge and skills to serve society.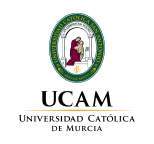 murcia (Spain)
#135-UCAM international marketing-los Jeronimos-Murcia
Tel. 968278798
The UCAM empowers students to develop their own real-world skills. The campus' top class infrastructure, its labs, and studios allied with the practical subjects will get students ready to put the acquired knowledge into action. Students have to complete an internship in a public or private institution where they will receive a taste of their future field of expertise. For the more academic profiles, UCAM provides more than 50 research groups that work in close collaboration with enterprises such as Coca Cola, Danone, Vodafone or Siemens.
Following the Anglo-Saxon model, sports are part of UCAM's DNA, being hailed the Champion of University Competitions for the third consecutive year, with 112 medals (74 gold). Among UCAM's top athletes are Olympic medalists like Mireia Belmonte and David Cal and World Champions such as Melanie Costa. The 21 federated teams sponsored and managed by UCAM include UCAM Murcia CB, a professional basketball team competing in the ACB Liga Endesa. Our sports facilities are led by the UCAM Sports Center, a high-tech gym accessible to both university students and local communities.
Some data;
Students: 15,541
Foreign Students: 10%
Undergraduate Students: 9,250
Postgraduate Students: 2,630
Students with Disabilities: 85
Exchange Students: 292