The Universitat de València is a modern European University founded over five centuries ago devoted to a wide range of disciplines, cutting-edge research and culture pursuing education and research at the highest international levels of excellence.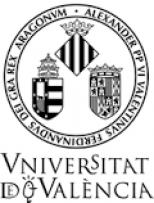 Valencia (Spain)
Avda. Blasco Ibáñez, 13
Tel. 0034963864498
Among its fields of studies, the Universitat de València offers spread out in its three campuses, experimental sciences, engineering, health sciences, humanities as well as social, economic, education and legal sciences. With more than 48.000 students, nearly 5.000 teaching and administrative staff, 18 Faculties and 92 Departments, the Universitat de València aims at training competent professionals as well as fostering outstanding research at international level. Its libraries hold nearly 1,5 million books, more than 26,000 journals and provide 4,300 reading places for its almost 60,000 users. Along with the human resources, the magnitude of its facilities and the available up-to-date instrumental equipment guarantee the quality of a vast scientific and technologic offer to the service of society. The Universitat de València is recognized as one of the most outstanding Spanish universities in both national and international rankings with a production of 63 % of the indexed references of all Valencian universities and ranks third among Spanish universities in indexed scientific production. One of the most outstanding features about the University's internationalisation strategy is its role within mobility actions. The existing consolidated partnerships in South and North America, China and Europe together with the recent expansion to the Asian countries, ensure a dynamic flow of both students and staff.