The John Paul II Catholic University of Lublin (Poland) offers Bachelor's, Master's and PhD's in English, including Biotechnology, European Studies and Philosophy.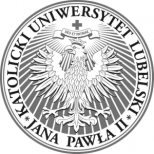 Lublin (Poland)
Al. Raclawickie 14
Tel. +48 81 445 42 16
The John Paul II Catholic University of Lublin offers first-cycle programmes (BA and BSc), second-cycle programmes (MA and MSc) and third-cycle programmes (PhD) in English and Polish as well as many courses in English. Those who want to study in English can choose from the following courses: - Biotechnology (BA), Canon Law (PhD), Cognitive Science (BA), European Studies (BA, MA), Philosophy (BA, MA,PhD), Theology (PhD). The University Faculties offer many lectures in English, which may be interesting for students, regardless of their field of study. They can participate in such lectures as: Globalization of Culture or Graffiti as a means of communication or Possible Worlds. To assist foregin students, the School of Polish Language and Culture of KUL offers courses in the Polish language each year. The John Paul II Catholic University of Lublin has become one of the most important centres of the Catholic thought and it affects the shape of Polish science and culture, gaining wide recognition both in Poland and abroad.