A high-standard teaching and research institute, Mines-Nantes offers several English-taught MSc's in Engineering for international students: MSc in Supply Chains and Transport, MSc in Energy & Environment, MSc in Nuclear Engineering.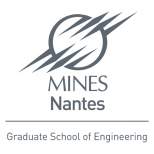 Nantes (France)
4, rue Alfred Kastler 44307 Nantes cedex 3 France
Tel. +33 2 51 85 81 50
Mines-Nantes Graduate School of Engineering is part of the "Institut Mines-Télécom", a leading group for Engineering studies in France. A teaching and research institution, Mines-Nantes is designed as a tool for the development of industry. It is characterized by its strong links with industry, its partnerships with high standard research institutes, and its world-wide network of partners. Moreover, its international Faculty Ranking is amongst the top 10% of Graduate Schools of Engineering in France; and Mines-Nantes has signed bilateral agreements with many other prestigious universities around the world.
More specifically, its partners in Asia include; IIT Delhi, IIT Mumbai, University of Pune, University Teknology Petronas, Universitas Gadjah Mada, IT Bandung, Universitas Indonesia, National University of Singapore. In terms of its programmes, Mines-Nantes offers Masters of Science (MSc) entirely taught in English and accredited by the Ministry of Education in the following fields: Management and Optimization of Supply Chains and Transport; Project Management for Environmental & Energy Engineering; Sustainable Nuclear Engineering - Applications and Management. These programs are specially adapted to international students. They represent a great opportunity to put into practice theoretical concepts in a real industrial environment through conferences, projects, company visits and a 6-month Master thesis (paid internship in industry or in a lab).
At Mines-Nantes International Students also benefit from; free pick up at Nantes train station/airport; rooms available for students in the campus; and Free French classes for MSc students.