Tallinn University of Technology (TalTech) is one of Scandinavia's premier universities and it has a strong focus on high-level research in engineering, technology and innovation-related fields.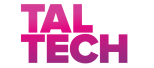 Tallinn (Estonia)
Ehitajate tee 5
Tel. 372 620 2022
Established in 1918, Tallinn University of Technology (TalTech) is the flagship of Estonian engineering and technology education and research, where higher education can be obtained at all levels in engineering, technological, natural, and social sciences.
TalTech is surrounded by a stimulating and culturally diverse environment with students-friendly accommodation and sports facilities in the Baltic Sea region. TalTech's campus is also home to Tallinn Science Park Tehnopol, with more than 200high-tech companies, including Skype.
With 1600 international degree students from over 94 nationalities on campus, TalTech is the most international university in Estonia. TalTech degrees are internationally recognised and its graduates gain access to international companies, organisations, top universities in Europe and North America. The modern campus is a self-contained hub in a picturesque urban area, just a 20-minute bus ride from the city centre.
Fees and funding
Tallinn University of Technology's tuition fees for English-taught programmes range from 2300-6000 EUR per academic year, depending on the programme.
European Union citizens are exempt from tuition fees, except in the School of Business and Governance.
Students from outside the European Union are required to pay tuition fees. However, all TalTech degree programmes offer limited tuition fee waivers, a non-monetary scholarship awarded to the best candidates for entire nominal study period based on their DreamApply application.
Please note, tuition fees apply for all students (EU and non-EU citizens) in the School of Business and Governance.
How to apply
To apply a degree programme at Tallinn University of Technology, you need to submit an application online www.estonia.dreamapply.com, uploading your diploma, transcripts, English proficiency test results, passport, statement of purpose and CV.