The University of the Aegean (UAegean) was founded in 1984 as a network University; it is spread in 6 campuses on six of the islands of the Aegean Archipelago. It is a unique, natural, cultural and human environment to experience.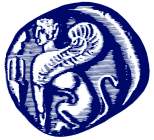 Mytilene (Greece)
University Hill, Administration Building
Tel. +30 2251036023, 36014
The University of the Aegean offers 17 undergraduate and 40 postgraduate programmes in modern interdisciplinary thematic areas such as environment, communication systems, cultural informatics, business administration, product design, food and nutritional sciences, education design and Mediterranean studies. It is ranked 970th University in world ranking (http://www.webometrics.info/en/Europe/Greece%20). Permanent faculty and research staff numbers approximately 500 people. Furthermore, almost 100 adjunct teaching staff and 53 teaching assistants support the University. There is also a further 304 members of administrative staff. Student Communities: • IEEE Student Branch University of Aegean - the University's student branch of IEEE Greece (Region 8), was established in 2000 and is based in the island of Samos. • AIESEC Aegean - the University branch of AIESEC Greece is based in the island of Chios. • MyAegean - a non-profit student portal for the University community UAegean has strong inter-institutional partnerships under the framework of Erasmus+ Programme (http://erasmus.aegean.gr/en/content/home-page). New inter-institutional agreements will be established between the UAegean and Universities from India, Singapore, China and other countries worldwide under Erasmus+ Programme, from the academic year 2015-2016 onwards. Many bilateral agreements have been signed between the UAegean and a great number of European, Mediterranean and International Academic Institutions. http://www.aegean.gr/aegean/en/international_relations_agreements.htm; http://www.aegean.gr/aegean/en/international_relations_associations.htm The UAegean has strong partnerships with several national, European and international organizations and it is a strong social and economic parameter in the Region of the North and the Region of the South Aegean; it acts as a regional innovator as well as a national research higher education institution. A plethora of the University's research projects are designed to improve the regional innovation capabilities for human capital development, entrepreneurship & technology transfer and career development. The UAegean has organised and operates 90 research laboratories with activities in the following research areas: ICT, Design and Interaction Design, Sustainable Development and Environment, Geography, GIS, Meteorology-Climatology, Transport & Shipping, Culture & Education, Financial, Economic and Social Sciences. The Research Unit of the University of the Aegean is the administrative and managing mechanism. The Research Unit since 1985 has implemented more than 2400 projects of a total amount of 150 million euros. The UAegean has established teleconferencing facilities in each island and in Athens, which are used for administrative and academic purposes. Through these facilities distance learning modules and other short-term seminars and courses are offered.