With high academic standards and a strong research capacity, The University of Warmia and Mazury in Olsztyn (UWM) has 17 faculties, including Medicine and Veterinary Medicine.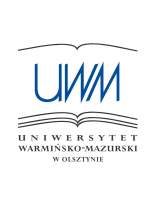 Olsztyn (Poland)
M. Oczapowski Str. 2 10-719
Tel. +48 89 523 39 26
The University of Warmia and Mazury in Olsztyn (UWM) is a public university consisting of 17 faculties - 13 of which have full academic rights to grant postdoctoral degrees (in 15 disciplines), as well as doctoral degrees at 16 faculties, within 25 disciplines. Overall, the University employs about 2000 scholars, 600 of whom hold professorial or habilitated doctoral titles. A large university, in the academic year 2014/15 a total of 27,000 students were educated at UWM in some 67 branches of doctoral or post-graduate study.
The mission of the University is to educate highly qualified graduates and scientific staff, to carry out scientific research which responds to the needs of the region's economy, and to enrich the national culture. UWM was included in the Polish Centre for Accreditation system, which is an integral part of the European Association for Quality Assurance in Higher Education and other accrediting commissions. It means, that our programmes of study, qualifications of university professors and also equipment base meet high standards of education. One of the examples is the Faculty of Veterinary Medicine, which obtained approval of the European Association of Establishments for Veterinary Education (EAEVE) and the Faculty of Medicine which was placed on the list of accredited universities in the United States.
In terms of living costs, the lower general living cost is approximately €280 per month. Every incoming student has an opportunity to be accommodated in student houses (dormitories). The cost of accommodation depends on types of room and are betwee €70-€100 per week. All student houses have internet access, as well as a TV room, study room and sports room. Electricity, heating and water fees are included in the rent for the room. Every student receives a student ID card from the University. Kortowo offers one central student canteen, one upscale restaurant at the marina on the lake and plenty of fast food bars. All of the venues are open all day long, and many also on Sundays and public holidays. They serve tasty and inexpensive Polish cuisine, exquisite delicacies or fast food. You do not have to leave Kortowo to do your shopping, buy books or textbooks, make copies, fix your computer or take care of business at the bank. There is a hairdresser's and a beauty salon on location, and even health care and a pharmacy.