UACEG is a state HEI, accredited at the higher standards in Bulgaria, which offers education in a broad spectrum of courses in the bachelor, master and PhD in the all aspects of the branch "Architecture, Civil Engineering and Geodesy".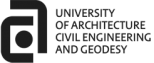 Sofia (Bulgaria)
1 Shristo Smirnensky blvd.
Tel. +3599633046
In Bulgarian ranking system, UACEG take first place as higher education institution within the direction 5 - Building (According to the Bulgarian classification). University of Architecture, Civil Engineering and Geodesy admits international students for full and part-time education to all available Bachelor, Master and PhD study programs. Issues connected to the admission, study and administration of international students are arranged by the Bulgarian Higher Educational Act as well as the Study Regulation of UACEG.