One of the best business schools in Germany, ISM offers students a comprehensive international education, practical orientation, compact study programmes, including a good selection of English-taught programmes, and a personal atmosphere.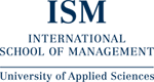 Dortmund (Germany)
International School of Management GmbH, Otto-Hahn-Str. 19, 44227.
Tel. +49 231-975139-0
The International School of Management (ISM) ranks among Germany's leading private business schools and continually places in the forefront of all applicable university rankings. The ISM has campuses in Dortmund, Frankfurt/Main, Munich, Hamburg, Cologne and Stuttgart. At the state-recognized, non-profit private university, tomorrow's leaders are trained in compact and practice-relevant degree programs that prepare them to work in international business enterprises. All degree programs at the ISM are distinguished by their internationality and practicality. Projects in small groups are as much a regular part of university life as integrated semesters of study abroad and international modules at one of over 170 partner universities of the ISM.
ISM offers students a selection of Programmes which are entirely English-taught including; B.A. International Management English Trail (Global Track), M.A. International Management, M.A. Strategic Marketing Management, M.Sc. Finance, M.Sc. International Logistics & Supply Chain Management, M.A. Luxury, Fashion & Sales Management, M.A. International Business, and an MBA General Management.
ISM's international and practical orientation, its general study environment and the studiability of its study programmes continue to make the ISM attractive to students. It also has good facilities and infrastructure. ISM's International Office will support students from India before, during and after their admission. Services include providing support with student's accommodation search as well as with administration such as visa extensions in Germany, health insurance. The international office also arranges for airport pick-up and helps with students integration through the 'buddy programme'.