GEM is a French graduate business school specialized in Business and Management. It was founded in 1984 in Grenoble by the Chamber of Commerce and Industry of Grenoble.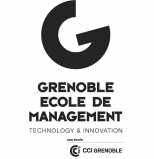 Grenoble (France)
12 rue Pierre SĂ©mard
Tel. +91 11 41526734
GEM's curriculums are specialized in business strategy, finance, and technology management and recognized for research in leadership reviews. The school offers undergraduate and post graduate programs as well as executive education for managers and leaders in its two French campuses in Grenoble and Paris and its twelve international campuses. Grenoble Ecole de Management offers 40 national and international programs from the undergraduate to the doctoral level for students and executives. It is one of the first 76 schools in the world (1%) to have obtained the triple accreditation: EQUIS by the EFMD, AMBA, and the AACSB. GEM has an academic staff of 700 and 8,000 students of 159 nationalities enrolled in graduate and undergraduate programmes. The school has been ranked second for sustainable & ecology development by Le Figaro and Davos's Forum. GEM is placed among one of the best business schools in France. In 2020, GEM is ranked among the top-16 European Business Schools and top-12 for Finances in Europe. Besides hosting a number of academic and applied research centers GEM is part of various important national and international research initiatives such as: MEDFORIST, GIANT, and the European Institute of Innovation and Technology. GEM is member of the Management School Chapter of the Conférence des Grandes Ecoles and associated with Mines-Telecom, the number ONE group of Engineering and Management graduate schools in France.
GEM also delivers courses entirely in English with : "100% English Track", "trilingual course", and :"transcontinental course" in agreement with Cambridge, Beihang University, McGill, and Columbia University.
The school is involved in the Global Compact program delivered by United Nations initiative (UN) that brings together firms, the business world and the civil society united on ten universal principles relative to human rights, working conditions and the environment.
GEM hosts the student association Altigliss which organizes the World cup Ski and Snowboard competition for students in the Alps.