Located in one of the most beautiful cities in Europe, The Medical University of Gdańsk (MUG) provides high quality higher education to over 6000 students, including to PhD level, and it has a strong infrastruture and a healthy international outlook.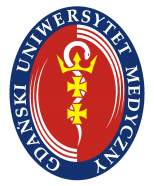 Gdańsk (Poland)
M. Skłodowskiej-Curie 3a Street
Tel. +48 58 349 13 90
The Medical University of Gdańsk (MUG) offers an impressive range of high academic standard English-taught programmes including a Premedical Course, Polish and English Language Courses, Medicine Doctor Programme, Bachelor of Nursing Programme and a Ph.D. Programmes. The University is also known for its high standards in conducting scientific research, which is reflected in its high position in the Polish Ministry of Science and Higher Education rankings and by the many awards it has receieved for its staff. Moreover, its Faculty of Pharmacy with Subfaculty of Laboratory Medicine has recently been recognized by the Polish government as a Leading National Research Centre (KNOW).
In terms of recent developments, the Medical University of Gdańsk is constantly modernizing its teaching and clinical infrastructure. The construction of the Invasive Medicine Centre, financed by the national budget, was finished in 2011. It is the first investment of this type in the Pomeranian region in 30 years. The new hospital comprises several sections and houses 12 surgical departments, with bed space for 311 patients. The Invasive Medicine Centre's teaching wing includes an auditorium with 288 seats and several seminar halls; whereas its roof has a helicopter landing pad connected directly to the Emergency Department.
In terms of facilities, students of Medical University of Gdańsk have access to a conveniently situated student residential campus, a modern library and a student club "Medyk". Furthermore, the university has a strong international orientation and international students constitute nearly 15% of the overall student population and represent more than half of all international students in Gdańsk. The Medical University of Gdańsk also carries out active international exchange through the Erasmus+ program, and it also takes part in Baltic Sea Region University Network (BSRUN) and ScanBalt. Since 2009, the University has been a member of "Study in Pomorskie", a programme which promotes our region's universities abroad.
The Medical University of Gdańsk also provides health care to the residents of the Pomeranian Region and the neighbouring regions, and it actively supports public health projects. For example, the University organizes Medical Science Day and Picnic for Health, events which serve to increase the awareness of healthy lifestyles in our region. The university is situated in one of the most beautiful cities in Europe, which boasts a charming historic old town and sandy beaches.