Welcome to ISAL! Due to our geographical location we consider our participation of vital importance to engage with students and academic community in India and South Asia to build educational bridges.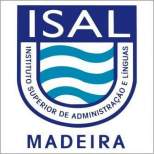 Funchal (Portugal)
Rua do Comboio, 5
Tel. +351 291 705 705
ISAL is a non-integrated private Polytechnic establishment of higher education studies. Its genesis dates back to 1971, a period when other institutes of Teaching and Professional Studies were created in Lisbon and which developed synergies that were determinant for the organization and functioning of ISAL in Madeira. We value our performance as a positive one, as it has allowed us to fulfill some national and regional gaps.
ISAL has several key goals which include;
• Forming managers and high level technicians, scientifically and technically prepared to work in businesses and other organizations;
• Promoting the constant improvement of managers and technicians who are already working in businesses and other organizations. This is achieved via short and long term courses and programs within the enterprise and other organizations, prepared to meet their specific, real life needs;
• Undertaking research related to science, management techniques, and tourism;
• Providing expert knowledge and scientific innovation in the area of management.
To ensure the above goal are met, ISAL has adopted the following guidelines:
• The constant perfecting of its activity in the areas of research, of teaching and of permanent formation in the areas of management and tourism, as to enlarge and consolidate its nature of upper studies school of management and tourism, in direct and dynamic connection with businesses and other organizations;
• The human, scientific and technical preparation of its students and other participants in sessions and formation studies; developing in them a spirit of innovation and openmindedness in what concerns the change and capacity to interpret and critically intervene in the community where the enterprise or organization is settled and to whom they will render their activity.
All courses offered by ISAL include a curricular training in its study plan. ISAL currently offers three degrees (meeting the Bologna requirements):
• Management
• Hotel Management
• Tourism
And several post-graduate courses:
• Management
• Sports Management
• Human Resources Management
• Finances For Non Financial Specialists
• Information Systems Management
• Account Closure Management
• Management and Public Policies
• Auditing and Management Control
• Health Services Management and Social Institutions
Please contact us for further information: erasmus@isal.pt