Recognized by the French Ministry of Agriculture and Food, ISARA-Lyon is a well known French "Grande Ecole" (graduate college) specialising in agronomy, food and environmental science.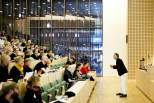 LYON (France)
23 rue Jean Baldassini
Tel. 0033427858551
ISARA-Lyon is a French "grande école" offering a wide range of Bachelor and Master level degrees in agronomy, food and environmental science. It also develops research activities and advisory services, mainly in Agroecology and Sustainable Food Systems.
Our mission is to:
Educate future managers of the agricultural and food sectors with a high level of scientific knowledge and ethical responsibility, who are able to anticipate and support the societal changes to meet the national and international challenges in food, agriculture and environment.
Develop international excellence in Agroecology and Sustainable food systems.
Participate to a development beneficial to the population, support project development and innovation, develop scientific and technical knowledge.
Participate in the public debate, and support the emergence of new ideas pertaining to science and society, economics and politics.
Study programmes:
ISARA-Lyon Engineering Degree, can be followed after successful completion of secondary education or after a Bachelor of Science in life sciences.
European MSc (CGE) in Agroecology: double degree with the Norwegian University of Life Sciences and in partnership with other European and American universities.
MSc (CGE) in Agroecology and Organic Agriculture: double degree with Wageningen University (The Netherlands).
European MSc Sustainable Food Systems (CGE), joint degree with universities in Belgium, Denmark, Germany and Romania.
Why study at ISARA-Lyon?
The employability of our graduates: 90 to 95% of our graduates find a job within 6 months of their graduation. We maintain a very active network of 3,400 alumni throughout the world and offer our students a recruitment forum each year attended by over 80 companies proposing job offers and organizing interviews with interested students.
Professionalized curricula including field trips, applied work, group work on real case studies. Several internships on farms, companies or in research labs are offered during the curriculum.
A network of 10,000 companies and professional organizations around the world offering internships and master's theses, and group works for tutored students. ISARA also offers expertise activities and its facilities to food companies (food production pilot-scale laboratory, microbiology, automatism and processes, chemistry labs).
International curricula: all students have an international experience, based on a network of over 100 partner universities in the world, with opportunities of double degrees in Europe, Brazil, Chile and Mexico. International teaching staff and international students welcomed in the programmes (exchange or degree-seeking students).
ISARA-Lyon International Relations Department and the International Students' Association gives you any support to help you prepare your stay in France.