The Mediterranean Institute of Management was established in 1976 and is the First Business School in Cyprus.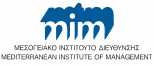 Nicosia (Cyprus)
Kallpoleos 77
Tel. +35722806000
The MIM is a public institution of tertiary education under the Ministry of Labour, Welfare and Social Insurance (MLWSI). It constitutes the International Component of the Cyprus Productivity Centre a department of the MLWSI.
MIM offers the following Postgraduate Programmes:
• Master in Business Administration (English speaking)
• Master in Business Administration (Greek speaking)
• Master in Public Administration (Greek speaking)
MIM Vision
Be a benchmark and the first option for higher education in Business Administration and Public Administration in Cyprus.
MIM Mission
Provide quality higher education in Business Administration and Public Administration to develop professional managerial skills tailored to labour market conditions.
The MIM operates according to its Internal Rules of Operation and it has a Council appointed by the Council of Ministers. The MIM Council serves as an advisory body to the Director of the Institution on all matters concerning the operation of the Institution and specifically on matters relating to the Study Programmes and specializations of the Institution, the budget and all other matters that the Director might refer to the Council.
The titles issued by the MIM are accredited by the Cyprus Agency of Quality Assurance and Accreditation in Higher Education.
Degrees awarded by MIM are automatically recognised by the law and they are not subjected to the recognition procedure of KYSATS.
Through the Postgraduate Management Programmes, MIM has set very high Professional Management standards and has created a managerial elite able to assist private, semi-government and government organizations to adjust successfully to constant socio-economic changes and rapid technological innovation.
The MBA Programme offers students, from a variety of academic backgrounds, the opportunity to prepare for a managerial career. Its overall objective is to provide students with a sound framework of concepts, analytical methods and techniques that will enable them to execute effectively their managerial duties.